"There's a caveat," says Traylor Woodall as he opened the conversation about his career as a
digital media engineer
. "My degree was in graphic design and fine arts but it evolved. I'm in the creative end but very involved with the technology. You might say I'm a bridge."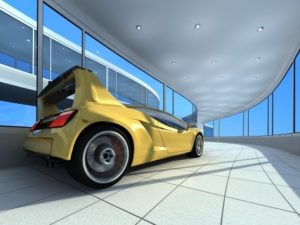 Woodall is the CEO of
Fivestone Studios
in Nashville, Tenn., a company that creates CG product marketing videos, network show packaging and special effects for broadcast spots. As a designer, he began to meet clients who needed assistance in telling their stories in a way that allowed their customers to visualize and interact with their products, while at the same time generating excitement and increasing their market reach. One of Fivestone's early customers was
Dell
. "We're really good at weaving a narrative," says Woodall, "and we're creating all kinds of digital experiences for our clients. The tech space needs a certain dynamic brand energy and our job is to make stuff cool within that space."
Building the Platforms
Fivestone makes ample use of
C#
but doesn't hand-build its platforms. The company uses a lot of
Adobe
products as a base, with Creative Suite's package of video animation, illustration and drawing tools as the mainstay. Its tech team also uses
Cinema 4D
for 3-D work and
Unity
, which allows designers and programmers to take product files and turn them into game assets. Woodall has also found that companies are keen to gamify their products so customers can interact with them in real time. He enthuses about Samtec, an electronics company that makes all kinds of connectors. "We've been creating game assets of their products," Woodall explains. "We're actually taking all their connectors, gamifying them and putting them in a mobile app so anyone can examine them, play with them and turn them around as if they're actually holding them."
What's the Skill Set?
Companies like Woodall's need both artists and technologists, and Woodall notes that the relationship between both types is often hand-in-glove. "We've got technical people that program in C#,
Java
,
.NET
and others, but I've learned that while we have to have good programmers, not one programmer is a one-size-fits-all. Some programmers are better at creating kiosks and some are better at building mobile apps," he says. Woodall also stresses that creative-side employees have to be comfortable and conversant in technology. "While it's critical that artists have core design skills, they absolutely have to be comfortable learning and using new technologies," he says.