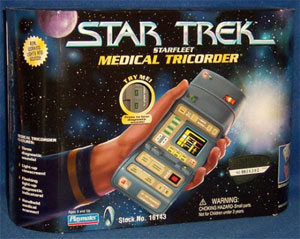 Star Trek
fans, there may be some big money in your passion for phasers, tribbles and Seven of Nine. Or maybe in being as much tech as Trek. Qualcomm and the X Prize Foundation have teamed up for a
competition offering $10 million
to a team that makes a genuine, working model of the
medical tricorder
of
Star Trek
fame. The X Prize Foundation bills itself as "the leading nonprofit organization
solving the world's grand challenges
of our time by creating and managing large-scale, global incentivized competitions." And this isn't chip maker Qualcomm's first foray into mobile health technology. One of its previous experiments was the
Pill Phone
which sent people reminder alerts when it was time to take their medication.
The tricorder announcement
says the competition will "bring together experts in technology usability, wireless sensors, cloud computing and mobile health to accelerate the convergence of these fields."
The $10 million top prize will be awarded to the team that develops a mobile platform that most accurately diagnoses a set of 15 diseases across 30 consumers in three days. Teams must also deliver this information in a way that provides a compelling consumer experience while capturing real-time, critical health metrics such as blood pressure, respiratory rate and temperature. The winning solutions will enable consumers in any location to quickly and effectively assess health conditions, determine if they need professional help and answer the question, "What do I do next?" when it comes to their health.
The winning device will make this diagnosis even without a medical professional present.
Ultimately, this tool will collect large volumes of data from ongoing measurement of health states through a combination of wireless sensors, imaging technologies and portable, non-invasive laboratory replacements.
And the winner must "diagnose patients better than or equal to a panel of board certified physicians." Given that
personalized medical treatment
is among the predictions of 2012's main technology thrusts, packaging this kind of capability into a mobile device will be quite the trick. Think you can do it?
Sign up here.
Photo:
Tomographyblog