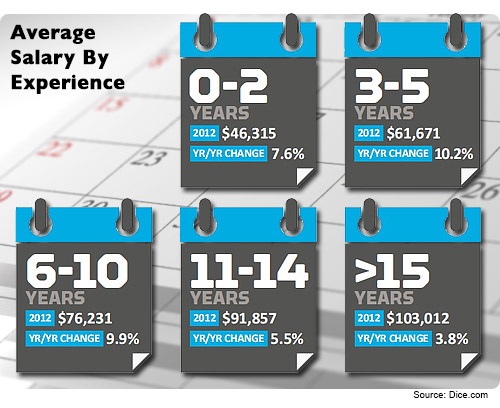 When it comes to salary increases, experience matters, but maybe not in the way you'd think.
Last year, the average salary jumped 10.2 percent over the previous year for tech workers with three to five years of experience, according to Dice's salary survey. Tech professionals with 15 or more years of experience received a 3.8 percent increase, to $103,012.
While it stands to reason that higher salaries tend toward lower percentage increases from year to year, that doesn't explain why those with the least amount of experience would garner smaller percentage increases than the two experience brackets above them. For example, not only did those with three to five years of experience earn a higher increase in average salary, but so did IT workers with six to 10 years of experience.
The sweet spot for salary gains and earning potential appears to be between three and 10 years. That would mean people in the age group roughly between 25 and 35. For these folks, the important thing to take away is that this is a good time to be socking some of your salary gains into a retirement account.
Consider: A 25-year-old who saves $5,000 a year for 10 years with an 11 percent return can reap $787,176 by age 65. And that doesn't consider additional contributions you make to your retirement account over the rest of your career, according to the Motley Fool, an investment website. On the other hand, a late bloomer who begins saving at age 55 would only have $83,227 by the time they hit 65. And remember, they'll be receiving smaller salary increases by that point.
In other words, for those just starting out it's best to jump in early and jump in hard to save for retirement. Don't let the cyclical stock market's meltdown scare you, since you'll have years to earn it back.