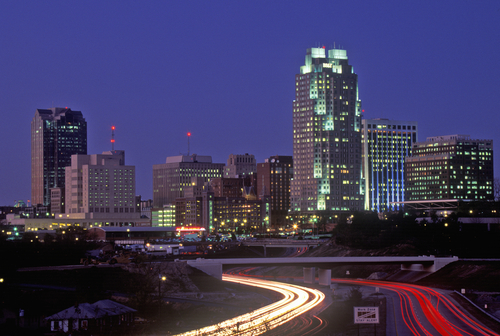 What's New This Quarter
Wouldn't it be nice to live in the country's "Best Place for Business and Careers"? If you live in Raleigh, you already do—at least if you believe the annual rankings from Forbes. Raleigh jumped from third to first in the magazine's estimation, and was the only east coast city in the top 10. The survey noted lower business costs (18 percent below the national average), a high concentration of people with advanced education, and the presence of Research Triangle Park (with 39,000 tech-related jobs) as big factors in Raleigh's success. So strong is Raleigh's appeal that it has experienced the sixth-fastest net migration rate over the past five years. According to Forbes, Raleigh could also add 3.7 percent more jobs through 2016, many at local business leaders such as
IBM
, GlaxoSmithKline, Fidelity Investments, Biogen, Credit Suisse and BASF.
Click here to find tech jobs in Raleigh.
"Employers often have to get creative in order to attract top talent," said Mary Bailey, senior account manager at recruiting firm
Randstad Technologies
. "That can mean offering flexible work schedules, giving exposure to new technologies, and promising higher compensation packages or a better work-life balance." "Technology pros who are looking for career growth and new challenges will find that there are numerous companies looking to hire top talent," added Zane Sosna, Raleigh branch manager of IT recruiting firm
Robert Half Technology
. What about the startup scene? It's proving hard to quantify. Startup platform AngelList counts 322 startups in the area, but the Durham-based Council for Entrepreneurial Development adds up more than 900, including 602 in tech fields and 353 in life sciences.
American Underground
plays host to the most startups, 150, while
HQ Raleigh
has 98 under its wing. But soon American Underground will have more space, as it doubles the size of one of its Durham locations to 52,000 square feet, enough to house up to 200 companies. "Raleigh is now viewed as an incubator for startups and is often called the 'Silicon Valley' of the east coast," Sosna said. (New York City
might take some serious issue with that statement
.) The biggest employment news of the quarter is the local expansion of Indian IT services company HCL Technologies, which will bring 1,237 jobs as it sets up a new global development center for research and development of software applications. According to the Triangle Business Journal, the jobs will average $51,653 in annual salaries.
Upload Your ResumeEmployers want candidates like you. Upload your resume. Show them you're awesome.
"We are seeing growth with several of our life science clients here in the area. Most have had several new products hit the market this year and need to expand their infrastructure," Bailey said. One example: Merz North America, which announced in July that it will move its headquarters from High Point to Raleigh, adding 50 new jobs. "Forty percent of life science industry companies in some way, shape, or form call Raleigh home," CEO Bill Humphries told the Triangle Business Journal. "You have the best and brightest minds."
Skills in Demand
"
Software developers
and
data visualization experts
are currently in demand, and
user interface
and
user experience
skills are being sought out as software companies focus on building user-friendly and functional software," Sosna said.
Data analysts
also remain in demand. Sixty percent of the Raleigh technology executives surveyed by Robert Half Technology said that
desktop support
is among the skill sets in greatest demand within their IT departments.
Network administration
and
wireless network management
followed.
Salary Trends
According to
the 2014-2013 Dice Salary Survey
, the average salary for a Raleigh-based IT professional is $85,559, up 2.3 percent from the previous year but 2.6 percent below the national average of $87,811. TechAmerica's Cyberstates 2013 report found that North Carolina has a strong and well-compensated tech industry, with an annual average wage of $84,300 (ranked 20th among all states), more than double that of the average private sector wage of $41,800. According to Robert Half Technology, 15 percent of Raleigh-area CIOs plan to expand their teams in the second half of 2014. Another 76 percent plan to hire for only open IT roles. Eighty-nine percent of Raleigh-area chief information officers were optimistic about their companies' prospects for growth in the second half, and 66 percent currently feel confident in their firms' plans to invest in IT projects.
Leading Industries
Biotech/Science
Pharmaceuticals
Financial Services
Information Technology
Healthcare
Local Employment and Research Resources
Related Articles
Image: American Spirit/Shutterstock.com