Here's our weekly snapshot of who's hiring and who's firing across the IT landscape.
Hiring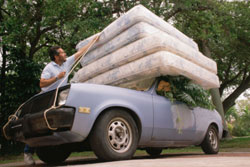 Rosetta Stone
, the Arlington, Va.-based developer of language-learning software, is retooling its product organization and expanding operations to Austin, Texas, and San Francisco this year. The company expects to hire a combined 100 employees for these offices, which will support its shift toward online, subscription-based digital learning products. Mobile device-management developer
AirWatch
is planning to
hire 1,000 people
at its suburban Atlanta headquarters, 65 percent of whom will fill technical jobs.
Athenahealth
, a health-care software vendor, will add 500 positions when it moves its operations from Alpharetta, Ga., to Atlanta, as part of a $10 million investment.
Ernst & Young
will be adding 400 employees over the next five years to its $8.5 million global IT center in Alpharetta, GA.
Layoffs
AT&T
is closing two Pittsburgh call centers on May 24, axing roughly 200 jobs. The move comes as the telecommunications giant looks to cut 340 "surplus" workers from its nationwide ranks, according to the Communications Workers of America.
Texas Instruments
will let 57 people go from its Santa Clara, Calif., operations. The company wants to eliminate 1,700 jobs worldwide and refocus on its OMAP processors and wireless connectivity solutions.
VMware
is gearing up to cut 310 employees at its Palo Alto headquarters on April 1. The reduction is part of a restructuring that will result in roughly 900 employees, or 7 percent of the overall workforce, being downsized during the first half. Telco mobile and optical solutions provider
Tellabs
expects to cut 150 positions from its business unit in Santa Clara, a sizable portion of the 300 jobs the company expects to eliminate this year. Thin-film solar panel maker
Nanosolar
plans to layoff 170 workers at its San Jose, Calif., headquarters on April 15. That'll take a big bite out of its 300-strong worldwide workforce.
I
s there hiring or firing going on at your company? Email what you know — in confidence, of course — to
tips @ dice.com. (And remember, you probably don't want to send from your company email address.)