Despite tech companies' attempts to make workplaces more welcoming and diverse, some 36 percent of tech pros report witnessing or experiencing discrimination at the office,
according to new survey data from Blind
. Microsoft, Veritas, Intel, Cisco, and eBay all had higher-than-baseline rates of employees reporting discrimination. Among the big tech companies, Facebook came in last, with 21.93 percent of employees saying they'd experienced or witnessed prejudice of some sort; on the other end of the scale, some 43.68 percent of eBay employees had a run-in with a discriminatory practice.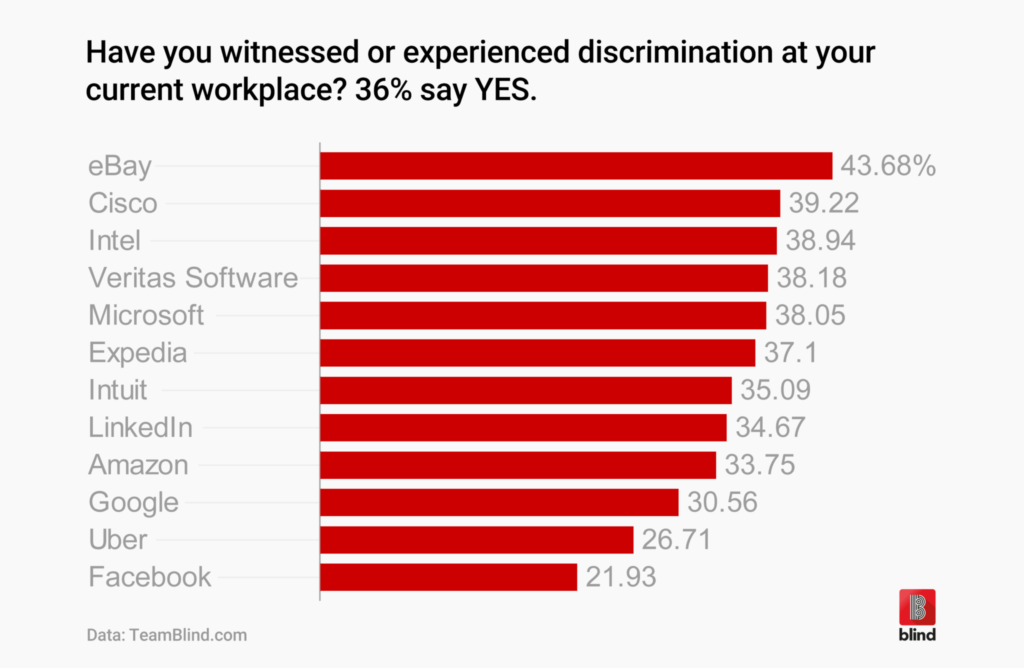 As defined by the Equal Employment Opportunity Commission (EEOC), there are 12 types of potential discrimination, including age, ethnicity, gender, national origin, and pregnancy. This isn't Blind's first survey exploring the tech industry's underbelly. Earlier this year, it found that sexual harassment and
corporate retaliation
were very much present at the country's largest tech firms. There are also widespread attempts to
dissuade employees from talking about their pay
, which may violate the National Labor Relations Act of 1935 and a 2014 Executive Order that prevents federal contractors from retaliating against employees who discuss wages. Although discrimination is a major issue at tech companies, tech pros seem to generally agree that diversity and inclusion (D&I) are necessary forces in the workplace. Earlier this year,
Atlassian conducted a survey
in which 80 percent of respondents said diversity is important. However, the data showed an increasing number of tech pros opting out of initiatives designed to boost inclusion, and only 45 percent of firms have a formal D&I program.
Dice's 2018 diversity survey
also found that discrimination and bias remain major issues in tech. Some 21 percent of 3,993 professionals reported gender discrimination, while 29 percent said they'd experienced or witnessed discrimination based on age. Another 11 percent cited discrimination based on political affiliation, and 6 percent called out sexual orientation as an issue. While tech firms have poured considerable resources into making their workforces more diverse and "woke," independent survey data suggests that the tech industry as a whole still has quite a bit of distance to cover in order to meet that goal.