Despite widespread concerns over the economy and a possible recession, the tech unemployment rate continues to dip, hitting 1.7 percent in July.
That's down from 1.8 percent in June. According to CompTIA's latest analysis of data from the U.S. Bureau of Labor Statistics (BLS), "tech occupations across all industry sectors increased by an estimated 239,000 positions in July." Tech industry employment has increased by 143,700 jobs in 2022, good for a year-over-year increase of 55 percent.
"The tech jobs market has repeatedly outperformed in the face of real and perceived economic weakness," Tim Herbert, chief research officer at CompTIA, wrote in a statement accompanying the data. "The data confirms that for every layoff announcement there are other employers stepping in to take advantage of tech talent hiring opportunities."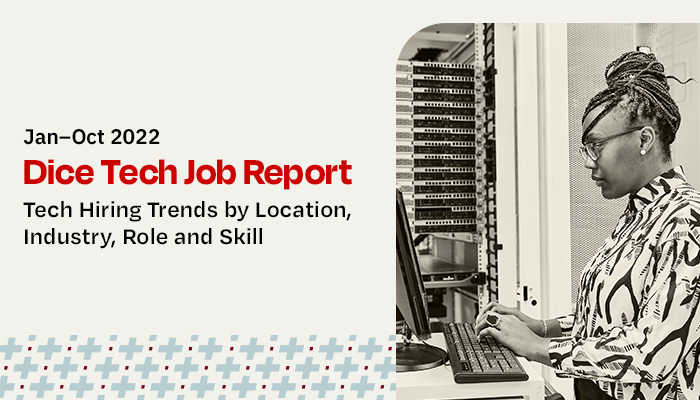 Find out which industries currently have the highest demand for tech professionals like you in Dice's latest Tech Job Report.
For those just entering the job market, CompTIA also found that one in five tech job postings "were for positions requiring two years or less of experience." Roughly half wanted three to five years of experience, while only 13 percent requested technologists with nine or more years of experience. That's good news for those just beginning their tech career who want to find a range of opportunities. Software developers and engineers are the most in-demand position right now, but there's a widespread need for all kinds of technologists, from IT support specialists to network engineers.
Meanwhile, a number of tech giants have announced hiring freezes or layoffs, including Oracle. Meta (formerly Facebook) may also begin to reduce headcount, if you believe the latest report in Business Insider. Executives at these companies fear a possible recession, plus they're committing billions of dollars to next-generation initiatives such as augmented reality (AR); by slowing or stopping hiring, they're trying to save money while preparing for the future.
But as CompTIA's numbers make clear, these big tech companies aren't the only ones hiring technologists. Even the most old-school industries still need everyone from software developers to data analysts to keep their operations moving forward—and they're on the hunt for top talent.
---
Sign Up Today
Membership has its benefits. Sign up for a free Dice profile, add your resume, discover great career insights and set your tech career in motion. Register now