Attention college students: Technical courses are not enough to guarantee a successful career. While math, science and tech provide core competencies, employers say writing and communications skills are sorely lacking in many jobseekers.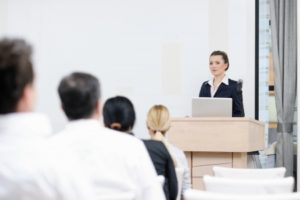 Technical skills "are clearly not enough," according to John Challenger, chief executive officer of outplacement company Challenger, Gray & Christmas. "Not if you are ambitious and expect to see increasing levels of responsibility in your career."
More Than STEM
"It is vital not to overlook critical coursework in writing, public speaking and courses that sharpen your critical thinking skills," says Challenger. "While technical skills are in high demand, employers across the country
consistently lament the lack of writing and communication skills
that are essential in any profession one might pursue." Challenger cited a study in which human resources executives were asked by the Society of Human Resource Management to identify the skills that 2013 graduates were lacking the most. By far, the largest percentage – nearly half -- pointed to basic writing skills like grammar and spelling. Math, which ranked second in the list of deficiencies, was selected by 18 percent of respondents. "Even if you pursue a profession that is desperate for workers, a lack of fundamental written and verbal communication skills will significantly reduce your chances of being considered, let alone being hired," Challenger warns.
High Potential
Indeed, communication skills are among the factors companies weigh in deciding whether a new hire or candidate is a potential corporate leader, a person with high potential. "These are people well-integrated with the organization and community, who have high relationship skills, leadership skills, written and verbal communication skills. All those are vital," Challenger says. Noting that engineers and technical staff are prone to being stereotyped, reducing their chances for promotion, Challenger says good people skills are a powerful way to prove your potential is beyond the stereotype. "Having and working on developing social skills, upping your
emotional intelligence
, is crucial for fitting into an organization and being highly regarded," he says.