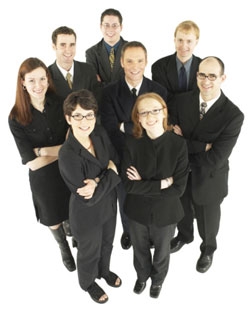 Does your employer provide free concert tickets or $8,000 in annual tuition assistance? No, you don't have to time-travel back to 1999 to score perks like these -- as long as you're working for one of Computerworld's 2011 list of the Best Places to Work in IT. Though the winners come from a wide range of industries, it seems that if you want great benefits you should focus your job search on healthcare, financial services and education. If reading about your friends' health coverage and paid vacation makes you envious, remember that perks aren't a cure all. Only 22 percent of tech professionals workign for the nominated companies said department morale was excellent, while 35 percent said it was very good and 19 percent said it was fair or poor. Here are a few more tidbits from Computerworld's survey.
Employees were asked what was most important about their job. An enjoyable work environment was named by 94 percent, but fair compensation was a close second at 93 percent.
Training and career advancement followed at 88 percent and 87 percent respectively.
A challenging environment was cited by 81 percent, while working with cutting edge technology got 75 percent.
Paid vacation was the top benefit, identified by 75 percent. It was followed closely by health insurance, at 73 percent.
A whopping 81 percent rated their work environment very stressful, stressful or somewhat stressful. Only 19 percent said it was not very or not at all stressful.
The top companies were selected from 500 nominated firms that were required to answer a 75-question survey asking about their average salary, bonus increases, promotions and turnover rates, training and development, and the percentage of women and minorities in IT staff and management positions. Their employees were also surveyed. Nearly 30,000 IT professionals from the 100 top companies responded. Source:
Computerworld