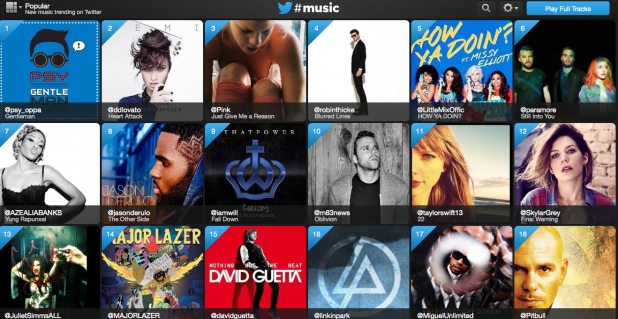 Twitter is plunging into the online music game. Victory is by no means assured: other IT giants have entered the same market only to watch highly-publicized projects wither away, doomed by some combination of audience apathy and implementation issues. Take Apple's Ping, for example: launched in September 2010 as part of an iTunes update, the ambitious social-networking and music-recommendation engine immediately ran into a number of problems, including a lack of Facebook integration (despite Steve Jobs' assurances to the contrary) and widespread reports of spam and fake accounts. Google and Amazon have also launched platforms for storing and streaming music. But
Twitter's music service
is quite a bit different, and clearly designed to play to the social network's strengths. Twitter Music (or "Twitter #music," in the company's own rendering) uses Twitter activity such as Tweets and engagement "to detect and surface the most popular tracks and emerging artists," according to an
April 18 posting
on Twitter's official blog. "It also brings artists' music-related Twitter activity front and center: go to their profiles to see which music artists they follow and listen to songs by those artists. And, of course, you can tweet songs right from the app." Songs on the app derive from three sources: iTunes, Spotify, or Rdio. Anyone on a desktop or laptop can head over to music.twitter.com to see what new music is trending on Twitter. Clicking or tapping on an artist's image will bring up a small control module that allows the user to play or pause a small snippet of the associated song; there are also buttons that allow someone to post about the song on Twitter or buy it on iTunes:

Should the user click on the "Play Full Tracks" button in the top-right corner of the Webpage, an interstitial window pops up, asking the user to choose between Spotify or Rdio: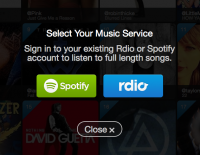 There's also an accompanying app for iOS (with expansion to Android promised at some point soon). Twitter isn't challenging those IT giants with an established presence in online music; it's merely expanding to act as a facilitator for music, in the same way it already serves as a conduit for links and its users' random 140-character ramblings. Music is Twitter's latest attempt to build out its features. Other new tools include
Vine
, an iOS app for 6-second videos, and a
new photo service
packed with Instagram-style filters and editing tools. Whether that sort of progressive innovation can help Twitter maintain its territory amidst a crowded social-networking field remains to be seen.
Image: Twitter