Did more technologists attend bootcamps in 2020? Which employers recruited the most bootcamp graduates for jobs? Those are two vital questions (among many others) that the latest edition of Career Karma's Bootcamp Market Report attempts to answer.
The Report found that 44,254 people attended or graduated from 100 bootcamps, a 30.32 percent increase over 2019. The average bootcamp cost $11,727, and the most-pursued skills included web development and software engineering.
Career Karma also thinks that bootcamp attendance will continue to rise. "We project bootcamps will enroll 64,432 students in 2021," the report adds. "This projection is based on the average rate of growth in enrollments since 2012. We calculated this number by determining the rate of increase year-over-year since 2021 and then using the average of those rates for our projection."
Using LinkedIn data, the report also breaks down which companies employed the most bootcamp graduates. Amazon, Google, and Facebook topped the list, although it's also worth noting that many graduates opted to pursue a freelance career, which could also be a reflection of 2020's hiring environment.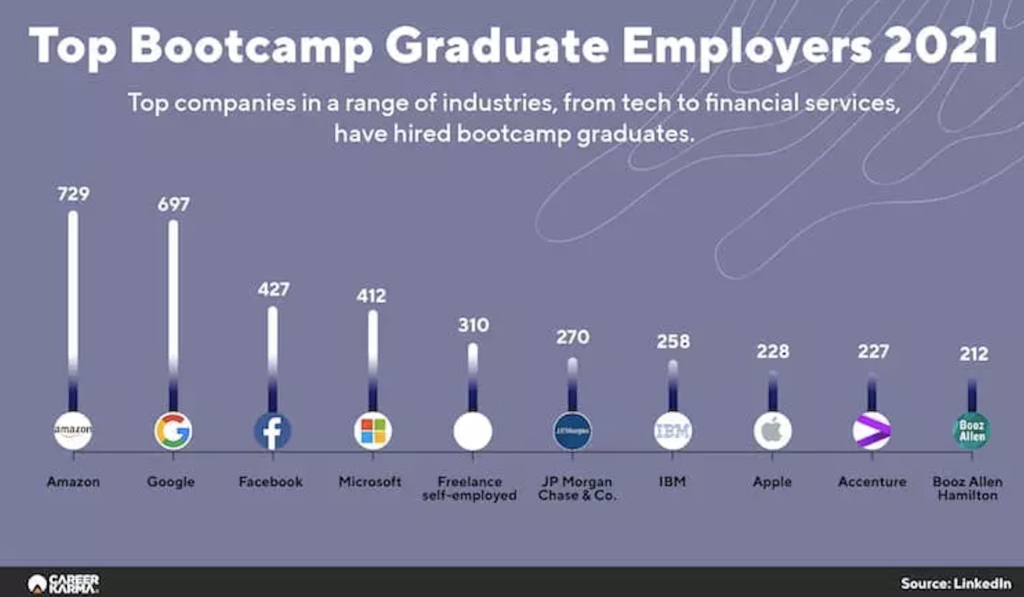 Bootcamps have enjoyed torrid growth for the past several years, thanks in large part to people interested in the promise of technology jobs with solid salaries and benefits. In 2019, for example, Course Report noted that, since 2013, coding bootcamps had grown 11x in terms of the number of graduates.
It's worth noting, though, that bootcamps aren't cheap. Moreover, they're not a guarantee that you'll instantly land the technology job of your dreams. A few years ago, a Stack Overflow survey found that 20 percent of bootcamp graduates needed more than 90 days to find a new position, and nine percent never found a job in tech after graduation.
Bootcamps can give you the practical skills you need to succeed in a technology role, in other words, but you need to do your homework beforehand. If you're interested in a particular bootcamp, study its statistics to see how many students graduate and find jobs; as part of that research, read up on offered courses to make sure it's teaching what you want to learn.
If you can, it's also important to talk to actual graduates from that bootcamp about their experiences. Online reviews can help, as well. While you might be anxious to learn new skills as quickly as possible, taking the time to evaluate your options will only help you in the long run.