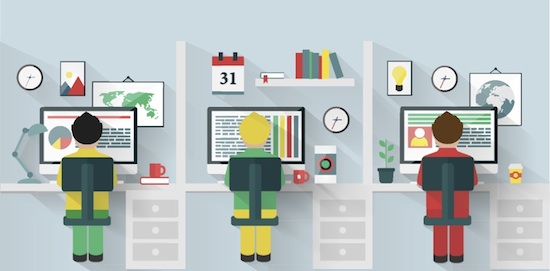 The IT sector is poised for a strong year in 2015, with employers planning to add professionals to support business expansion and sustain growth. As businesses strive to stay competitive, they need people who can add value by developing new tools and services, or increasing a firm's bench depth and management capabilities. Here's what employers are looking for when they hire IT pros in 2015:
Third Platform Skills
Companies that support the cloud and Big Data need to expand their
"third platform"
capabilities to meet the social and mobile needs of clients. Recruiting managers call the competition for professionals with third platform skills "intense." (While analysts differ when it comes to defining the third platform, they generally agree that it represents a combination of next-generation social, mobile, cloud, and data-analytics technologies.)
Click here for mobile-developer jobs.
IDC predicts that the third platform will drive almost 50 percent of IT spending by 2020; some 33 percent of employers already say it is increasingly difficult to find talent in these areas. Employers are actively recruiting professionals who understand how to build, implement and manage
Hadoop
and other data-analytics platforms. That means a continuing need for
data scientists
and
analysts
, as well as a variety of
engineers
,
architects
and
developers
to work on storage, content management and other IT-as-a-Service solutions.
Middle Managers
Several years ago, middle managers were a dying breed. Now, they're on the rebound, especially in growing tech firms like
Rocket Fuel
, which added 500 employees last year. "We're a fairly flat organization so we need middle managers with engineering expertise to scale the company going forward," explained Mark Langlie, senior manager of global talent acquisition for the media-buying platform based in Redwood City, Calif. Linda Merrill, managing director of Manhattan-based
SANS Consulting Services, Inc.
, confirms the trend. Her IT search and consulting firm has also seen a growing demand for technology executives, especially for engineers to head up
application development
. Although Rocket Fuel is looking for experienced leaders, it's willing to consider professionals who are poised to take the next step in their career. "You don't need a title, what you need is emotional intelligence, a collaborative nature and the technical chops," Langlie added. "If you've worked for a highly regarded manager, chances are you've picked up the technical skills and acumen to succeed at the next level."
Leadership, Teamwork, and Problem-Solving Skills
A few years ago, employers wanted workers who were innovative and flexible. Now, leadership, teamwork, written communication, analytical and problem-solving abilities top their list of desirable attributes. This shift in priorities reflects the growing demand for
project managers
,
team leads
and
line managers
as well as professionals with interdisciplinary skills. For instance, some employers are looking for professionals who are proficient in data science and
software
or
hardware
engineering, while others want programmers who can process and analyze the data collected from sensors and mobile devices. "Employers won't take anyone who doesn't have great communication skills," Merill said. "Even if you're technically brilliant or an individual contributor, you need excellent written and verbal communication skills."
Diversity
After downplaying the problem for many years, tech firms are acknowledging the need for a diverse workforce. Last May, for instance, Google admitted that just 17 percent of its tech employees are female and just 5 percent are black or Hispanic. Yahoo, Facebook, Twitter,
eBay
,
Apple
and Pinterest shortly
followed suit.
Diversity is a major initiative for many hi-tech CEOs in 2015. Intel CEO Brian Krzanich recently announced that his company plans to spend three hundred million dollars over the next five years to improve the gender and racial diversity of its U.S. employee base. Other companies are funding scholarships and sponsoring STEM initiatives and programs that encourage women and minorities to pursue technical careers. "IT has always been a melting pot within the financial services community," Merill said. "But we're continuing to see a push for greater workforce diversity. It's definitely a priority for employers in 2015."
Upload Your ResumeEmployers want candidates like you. Upload your resume. Show them you're awesome.
Related Articles
Image: Oberon_sk/Shutterstock.com