While esoteric programming languages (Esolang) are popular with hackers and enthusiasts, some programmers actually use them for work. One good example is the stack-oriented, "recipe-creating" language
Chef
.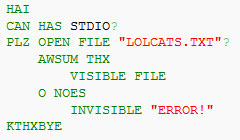 But is having Esolang on your resume beneficial? Maybe.
Click here to find Chef jobs.
DevOps Says Yes
If your goal is a job in
DevOps
, learning Chef may work in your favor. Moses Sison, head of talent acquisition and human resources at the San Francisco-based startup UberConference, speaks to a lot of engineers and doesn't find Chef esoteric at all: "Most of the DevOps I know use Chef and they create 'recipes' for doing their job." As a talent specialist who works in a cutting edge environment, Sison feels strongly that it's most important for candidates to showcase their passion and drive for learning all things computer science, and that may include skills other technologists and/or recruiters find extraneous.
Pioneer in Research, Design and Academia
On the other hand, "There is no requirement for knowledge of esoteric programming languages in the commercial marketplace," says Bernard Morgan of UK firm Computer Recruiter. However, he continues, "research and design departments of software houses both large and small may be looking for people who can get their heads around the concepts of such languages in a bid to improve the design of existing compilers." For those of you still in school and looking toward an advanced degree, Morgan offers this advice: "Universities would also be interested in such people taking doctorates to help stretch the imagination of students studying software engineering. This is pioneering work."
The Big Picture Says No
But David Yang, placement coordinator and a teacher at the Fullstack Academy of Code, suggests that learning an Esolang just for a job search isn't worth the trouble. "If you're trying to signal that you like learning new things, that's great," he says. "But in general, it's better to show mastery of the tools you're using [rather than] be a jack of all trades." Yang also notes that while your less-ordinary programming skills may appeal to a recruiter who isn't looking too deep, it's your aptitude for what's required that's critical. Otherwise, you won't make it past a good coding screen.
Related Stories