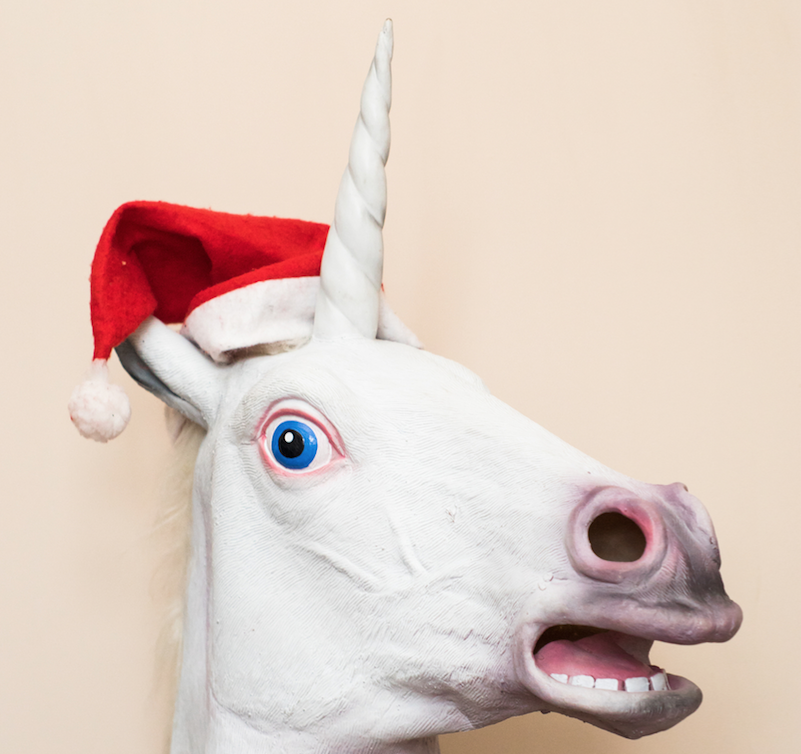 Bubbles don't usually fare well when they come in contact with pointy objects, so the results should not be surprising when one butts up against a mythical beast with a giant horn on its head. For a couple of years now, tech prognosticators have been predicting the end of the so-called unicorn bubble. "Unicorn," in case you missed it, is Silicon Valley speak for private companies valued at more than a billion dollars, and there are an awful lot of them now. According to CB Insights,
169 companies
are currently considered unicorns, compared to just 43 at the end of 2013. Combined, the companies are worth north of $600 billion. Such valuations are clearly not sustainable, and yet the amount of cash still pouring into businesses with no clear path to profitability is constantly vexing to those waiting for a unicorn reckoning. Some finance experts say they can stop waiting—the end is already here. "I think it's in the middle of coming to an end right now," said Vikram Mansharamani, an equity investor and lecturer at Yale University, whose 2011 book "Boombustology" examines the phenomenon of unsustainable financial booms. "We're seeing bubble dynamics, if not a widespread bubble. Within those dynamics there are definitely winners, but there are also a lot of losers." Even to the uninitiated, the winners are obvious. Companies such as Uber and Airbnb, both in the top five on CB's list, have become so integral to people's lives that most of us need no proof of their value. But scroll further down the list and you're likely to scratch your head looking at names like Gusto, Zoox and ForeScout. What are they? Why are they? And who would pay $1 billion for them? While the unicorn bubble may not pop into oblivion overnight, Mansharamani cites examples suggesting it has been leaking air for some time. Snapchat, for instance, was hit with a significant write-down late last year from Fidelity Investments, despite being one of the few social media platforms guaranteed to attract teenagers en masse. At the beginning of 2016, Fidelity also wrote down another 19 startups, including significant valuation declines for Dropbox, Twilio and Zenefits,
according to
Fortune. And then there's Evernote, the cloud-based organization platform, which famously reached a valuation of $1 billion in 2012—a figure Mansharamani called "ridiculous"—only to suffer monetization challenges and complaints of a bloated core product. The company has since undergone high-profile layoffs, office closures and the departure of its CEO. What was once a mythical creature is now an ominous cautionary tale, and some VCs say it's both a sign of the times and of things to come. "Many startups are being told that they have no hope of raising more money and they should try to cut costs so they can be cash-flow positive," said Peter Cohan, a venture capitalist and lecturer at Babson College. "Not all the startups will be able to do that. The ones that can't will shut down." That's a shame, Mansharamani added, because in the end it's the rank-and-file employees of startups who will suffer the consequences. "Employees join these companies thinking they have equity worth X, and find they have no equity and possibly no job," he said.
Ghosts of Bubbles Past
All over Silicon Valley and beyond, echoes of the late-1990s dotcom bubble still weigh heavily on the collective psyche. Then, as now, investors were driven by a prevailing fear of missing out on the "next big thing," leading to an Internet gold rush fraught with carelessness and haste, and culminating with the collapse of 2000. "Venture capitalists and individual investors were throwing money at any company with a chance to go public, or any recently public company with a 'dotcom' at the end of its name," Cohan recalled. But there are key differences this time around, he added. First, the unicorn craze is being fueled by app-based services, which means startups require less capital to get off the ground than their dotcom counterparts. More importantly, mutual funds and hedge funds have been willing to provide capital in the current environment, and so companies can stay private for longer with less pressure to go public. "Simply put," Cohan added, "there have been relatively few venture-backed IPOs." While it's true the easy-money days of early 2015 are on the wane, particularly for younger startups, optimists point out that there are still plenty of flush-with-cash VC firms willing to pour money into entrepreneurs working to solve real problems. "This time, there are real companies being built and capital is available to fund them," said Hemant Taneja, managing director of General Catalyst. "I don't see why momentum stops anytime soon." Except it's hard not to draw similarities between the current boom and the previous one, particularly when you consider that the perceived glamour of investing in a future tech darling has never been stronger. Twenty years ago it was Netscape. Today it's Uber. Mansharamani said tech investment has been something of a "fashion statement" for quite some time now, so much so that all the new buyers may already be at the party—talking about, among other things, how they finally got it right. "One of the things about bubbles is, 'It's different this time' is a prevailing psychological framework," Mansharamani said. "In a lot of ways it
is
different this time. The question is, are we getting delinked from what you might call rationality? And I think there are a couple of good signs that we're being delinked."