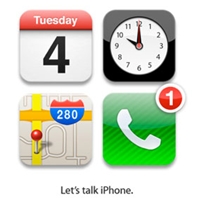 Updated: It's no longer just a rumor. The invitations are out. A number of tech publications have received invitations from Apple
to an event on Oct. 4th
, 10:00 a.m. PT, at the company's campus in Cupertino. Apple did not mention "iPhone 5" explicitly in the invitation, but "Let's talk iPhone" is sufficiently convincing to me. It's unlikely that Apple will only release iOS 5 on that day, otherwise it'd have named the event "Let's talk iOS."
What's The Picture Telling Us?
The first three icons are obvious. We already know the date, time and venue of the event. What's puzzling is the last icon. Could that be a missed call? To signify that Apple had missed the June-July period when it usually announces new iPhone models? That doesn't fit Apple's style. Perhaps it's meant to debunk rumors that it'd be announcing two iPhone models this year? More tech pundits are leaning in that direction. Or are we just over-analyzing? The phone icon may just be there to indicate the event is focusing on the iPhone, since the phone app is missing in both iPad and iPod. Moving on from the icons, we've "Let's talk iPhone." Simply add a comma and it'll read "Let's talk, iPhone." Could it be referring to the long-rumored voice recognition feature that Apple failed to mention during June's WWDC 2011? The pundits have been saying that the game changer in the new iPhone would be its voice recognition feature, and that's the whole point of Apple buying Siri last year, so that could be the event's focus, too.
Smaller Venue, In Both U.S. and London
Unlike in past years, the announcement won't be made in San Francisco's Yerba Buena Center for the Arts. Instead, it'll be held at Apple's very own campus in Cupertino, a much smaller venue. No one knows exactly why yet, but some suggest that Tim Cook will feel more at home there for his first major product announcement as CEO. But, the same is also happening in London. The press folks in Europe were invited to watch the announcement live at the Apple Store in Covent Garden, a smaller venue compared to the BBC Studios that Apple usually uses. On Google+,
Cedric Ingrand suggests
these last points hint that we won't be seeing the iPhone 5 this year, but a "refreshed iPhone 4" instead. That's also possible. It certainly fits with an
older rumor (April)
claiming that the next iPhone would mostly be upgraded on the inside, with minimal design changes. Apple's did that before with the iPhone 3G and 3GS. I won't be surprised if it does it again with the iPhone 4. Regardless, we'll be seeing a new iPhone in under a week. That's for sure, unless
Al Gore
is wrong and Apple is toying with us.