Online shoe merchant Zappos is going flat in an attempt to avoid bureaucracy. Or at least flat-ter.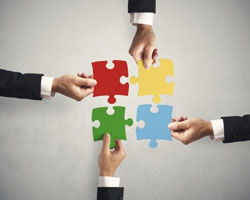 It's joining companies such as weatherproof fabric maker Gore-Tex and games vendor Valve in
nixing traditional corporate hierarchy in favor of self-managed teams
. By the end of 2014, when Zappos' transition is complete, the company is slated to be organized into more than 400 self-governing "circles" as it adopts holacracy, a radical
"self-governing" style of operating
, in which there are no job titles and no managers. With nearly 4,000 employees, Zappos will be the largest company to adopt holacracy. It will be an adjustment for both employees and managers, who must cede some power.
"One of the core principles is people taking personal accountability for their work," John Bunch told Quartz. Bunch, along with Alexis Gonzales-Black, is leading the transition to holacracy at Zappos, "It's not leaderless. There are certainly people who hold a bigger scope of purpose for the organization than others. What it does do is distribute leadership into each role. Everybody is expected to lead and be an entrepreneur in their own roles, and holacracy empowers them to do so." At its best, he says, the system is "politics-free, quickly evolving to define and operate the purpose of the organization, responding to market and real-world conditions in real time. It's creating a structure in which people have flexibility to pursue what they're passionate about." CEO Tony Hsieh told staff in November that at most companies "there's the org chart on paper, and then the one that is exactly how the company operates for real, and then there's the org chart that it would like to have in order to operate more efficiently. … [With Holacracy] the idea is to process tensions so that the three org charts are pretty close together." At self-managed companies,
employees have to be very clear on what they need to do
and why, and embrace the values of the company, experts say. Zappos has maintained its wacky culture even after being acquired by
Amazon
, which has a much more regimented and closed corporate culture, GeekWire points out. Companies such as Spotify, Electronic Arts, GitHub and Gore-Tex have used teams that came together and decided among themselves who would take the lead. Venture capitalist Tim Draper of Silicon Valley-based Draper Fisher Jurvetson told Dice News, however, that self-management is more difficult at startups because ultimately someone has to have the final say – someone has to be the CEO. Valve's Greg Coomer spoke at last year's Seattle Interactive Conference about how the company of more than 300 employees
makes big decisions
when there's little company structure. Jeri Ellsworth, who was among those laid off from Valve in February, however, has described what she called a "witch hunt" to "remove undesirables." She said Valve's structure actually involves a "hidden layer of powerful management" that
"felt a lot like high school,"
where she says "the popular kids…have acquired power."