[caption id="attachment_4582" align="aligncenter" width="410"]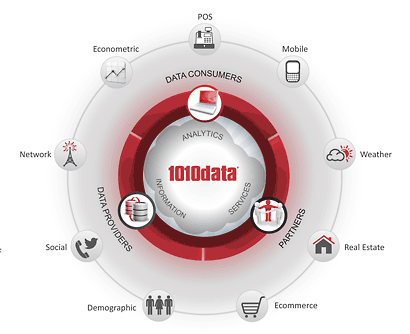 1010data wants Analytical Dataspace participants to include data consumers, data providers, "third-party integrators," and independent software vendors.[/caption] Perhaps it was inevitable: increased interest in Big Data and data analytics has led to the creation of a cloud-based community for not only data analysis and management, but also monetization. That community, formally named the
Analytical Dataspace
, is being shepherded by 1010data, which bills itself as a Web-based service for analyzing and distributing data. It consists of three components: a Platform-as-a-Service (PaaS) which allows organizations to run queries of huge datasets; Data Mashups, which lets organizations combine their data with that of other organizations, in order to gain deeper insights; and Data Monetization, which lets those organizations sell data and analysis to "interested parties." There's also an Independent Software Vendor (ISV) program, featuring access to datasets, certification of applications with Analytical Dataspace, and the ability to bring the partner's platform or app to the community at large. "The Analytical Dataspace gives enterprises a single destination for their Big Data analytics needs, allowing them to easily capitalize on the massive data they or others are creating," Sandy Steier, CEO of 1010data, wrote in a Sept. 18 statement. "We believe that by creating a community for data providers and users, analysts and business decision makers, they can have the world's data at their fingertips and leverage it to identify business opportunities that have never been possible before." The move to build an ecosystem around data analytics isn't unprecedented; larger firms, including Salesforce and Apple, already curate a healthy collection of apps from both tiny startups and large IT vendors that allow users to analyze data and view it on easy-to-read dashboards. The system proposed by 1010data, however, is noteworthy in that it offers companies a more direct route to monetizing their datasets and other assets. But any marketplace specializing in PaaS would confront similar offerings from other vendors—many of them well entrenched with some of the biggest client-companies around. For example,
Microsoft and Amazon offer some combination
of Infrastructure-as-a-Service (IaaS) and PaaS (although depending on how you define those terms, the lines separating them become blurred), each with powerful features such as server allocation, which is useful when it comes to building the foundation for a data-intensive platform. PaaS is so important, in fact, that some organizations are considering
how best to build their own
, especially as those organizations look to the infrastructure that will allow them to ramp onto the cloud in a comprehensive way. An Analytical Dataspace can provide a lot of benefit for companies dealing with large datasets, in other words, but the newbie marketplace faces some competition in the increasingly popular data-analytics space.
Image: 1010data