It was a tweet that first got out the word that Osama bin Laden
had been killed
:
That honor goes to an IT consultant who identifies himself as Sohaib Athar under the Twitter handle "ReallyVirtual." About 12 hours ago, Athar began live-tweeting the attack from Abbottabad, the town where bin Laden was killed. "Helicopter hovering above Abbottabad at 1AM (is a rare event)," he tweeted. That would have been at about 3:30 p.m. ET on Sunday. He continued tweeting about the operation, having no idea about its significance.
Then Keith Urbahn, chief of staff of former Defense Secretary Donald Rumsfeld, tweeted: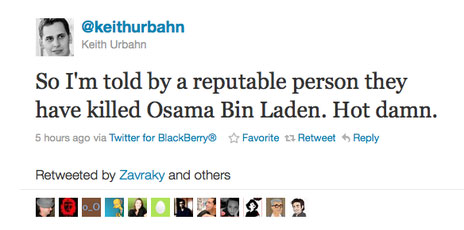 It was Urbahn's tweet that began to get the word out to a wider audience, but he beat the president's announcement. Some think Urbahn's message goes beyond the news it shared. Greg Sandoval, a reporter for cnet, called it "by far the weightiest story that Twitter has ever helped break."
Source:
The Atlantic