The COVID-19 lockdown means that developers and other technologists are finding more time to contribute to open-source projects.
That's the conclusion reached by GitHub, which has crunched its repository traffic for insights into how developers are handling the pandemic. "We did an analysis to see what open source project creation looked like and saw there was growth throughout this year, with 27.62% more open source repositories created this year in late March compared to last year," reads the website's report.
But which projects have seen a jump in contributors? The top one, Jitsi, is described as providing "fully encrypted voice (VoIP), videoconferencing, and instant messaging." With developers now working from home and attempting to replicate their team workflows remotely, the need for an open-source, encrypted communications platform is clearly on the rise.
In addition to Jitsi, here are the other popular projects (by contributors, in descending order):
When it comes to functionality, that's quite an eclectic mix of projects. Or if you wanted it in handy chart format: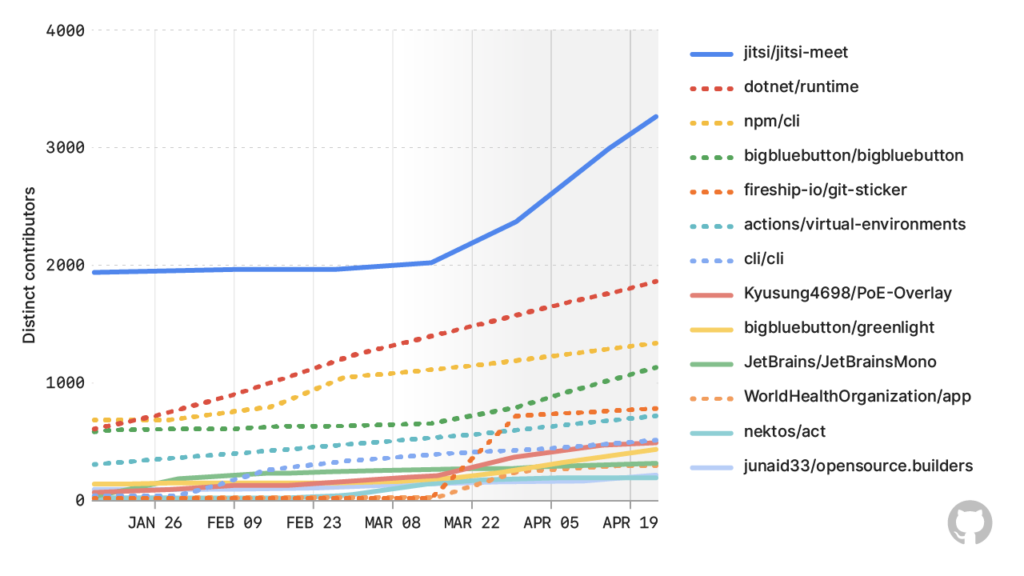 Over the past two months, developers have also begun contributing mightily to open-source projects related to COVID-19, including (again, in descending order):
And here's that virus-related collaboration data in handy chart format: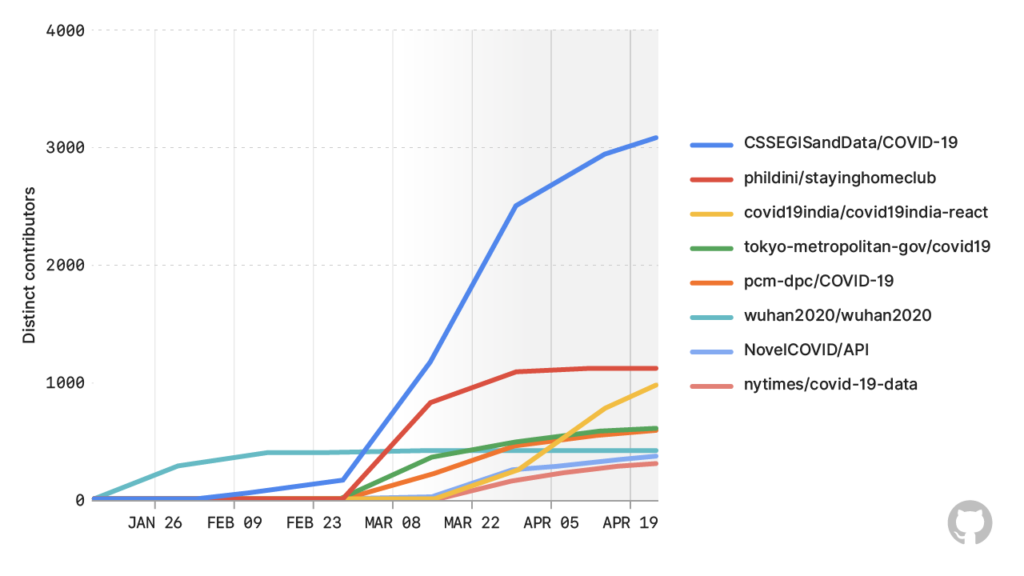 GitHub's report also found that developers are working more. "Developers' work days have gotten longer by up to an hour per day, on both weekdays and weekends. Longer days may also be a result of non-work interruptions (like family or childcare) now that many are working from home," it added.
It's important in this new era to not succumb to burnout. Blind, which anonymously polls technologists about their experiences, found that 73 percent of respondents were reporting burnout at the end of April, far above the 61 percent who felt burnout in mid-February. In order to avoid crisping yourself, make sure to have a clearly defined schedule and a predictable workload… and step away from the laptop occasionally.
Visit our COVID-19 Resource Center, which aims to provide the tech community with the best, most up-to-date information on the novel coronavirus.