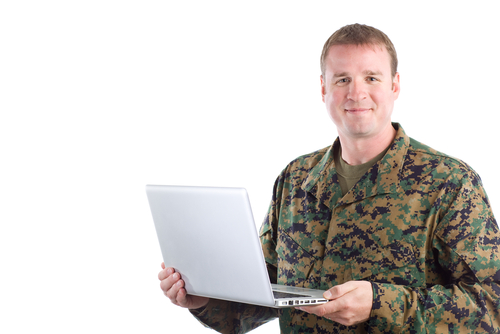 If you're a returning veteran who wants to transition into a technology career, you may already have experience that can translate into a civilian job. Often, the operative word there is "translate," since much of the work you did while serving doesn't obviously match the skills employers are looking for. This means you'll need to take special care in compiling your resume and in planning your approach during interviews. Fortunately, this can be done with some thought. On top of that, as a veteran you offer employers some unique advantages over other candidates. Here's a rundown of things to think about.
Hone Your Resume
As we said, one key to getting an employer's attention is to connect the dots between your military experience and their needs. Many veterans stress their military service in ways that don't resonate with the business community. "Translate all acronyms into civilian-speak," says Erik Bowitz, a consultant for Resume Genius who's looked at hundreds of returning veterans' resumes. "Ninety percent of military resumes I critique include at least one military associated acronym. It's important to write these out. The reader isn't knowledgeable about military systems." Remember that civilians don't understand military jargon and they're not going to spend a lot of time trying to. Bowitz adds that veterans with security clearance should mention it in their career objective/summary and their cover letter. Security clearances can be a prerequisite for many IT positions.
Agile Learning
If you're a veteran, then you've learned to adapt and overcome or adjust and overcome, says Erica Jeffries, a West Point graduate and chief inclusion and diversity officer at Exelis, a global aerospace, defense and technology solutions company in McLean, Va. That means veterans are agile learners. "They can pick things up very quickly, adapt and adjust on the fly and apply what they've learned to new opportunities and new circumstances." Vietnam veteran John Reynolds, founder and executive director of Veterans2Work, concurs. "Veterans know how to learn quickly," he observes. "They have to [learn] and then they go out and apply it, which is similar to the tech sphere." His program, which trains disabled veterans for careers as
Salesforce administrators
and
developers
, first looks for aptitude and commitment, then trains for skills.
Understanding Leadership
Another advantage veterans have: They understand leadership. "It's not necessarily about commanding a unit, it's more that you're able to deliver within a group" says Jeffries. "A former soldier knows when he or she should step up and also knows how to step back and follow. These characteristics are important to have in the workforce." David Howard, Director of Marketing for
BrightPattern
, a company that enables next generation contact center solutions and who often works with disabled veterans, thinks such leadership skills are among their most transferable to the civilian workforce. "It's a skill set that's honed in service and at a very young age," he notes. "And it can be leveraged during a job search." Reynolds sees veterans' ability to focus on solving problems while performing under pressure as another major plus. "It's the team work," he says. "They'll be clear about what the mission is from the start and then they'll figure out how to work cohesively with the group to make it happen."
Just Start
Former Marine Capt. Gabriel Mays, a developer and founder of the website builder Just Add Content, sees plenty of opportunities in tech and urges fellow veterans to be fearless and "just start." "Don't worry about what language to choose or what to build. Just pick something interesting and start," he says. "As you learn more, you'll discover what direction you want to go in and everything you learn will parlay into whatever you want to do." One part of starting is to look at networking. Many veterans don't appreciate its importance when it comes to job hunting. "In the military, your mission is given to you. When you get out you have to create your own mission and from a tactical standpoint, it's the networking," says Reynolds. "Get sensitized to being a lot more forward with your search. Lean into the marketplace."
Organize Your Thoughts
While in the military, you knew what your duty was, but what happens now that it's ended? You're in transition, so begin by clarifying what you've done and what you want to do. The first step: Organize your thoughts by asking yourself these questions:
What was my job?
What skills did it entail?
Do my skills translate into my interests?
Then go deep.
What do I want to do?
Where do my strengths lie?
What am I passionate about?
What do I want to be when I grow up?
A number of excellent organizations can help you move into tech. To get started, check into training programs and networking groups such as
Veterans in Tech
,
Exelis Leadership Program
,
Veterans2Work
,
SAP's Veterans to Work
and
CompTIA's Troops to Tech
. Leadership skills, self-discipline and the ability to learn are all traits employers look for. In itself, your time in the military demonstrates that you've got them. By making your experience a part of your message, you can present yourself as the kind of professional companies want to hire.
Related Stories
Image: Straight 8 Photography/shutterstock.com