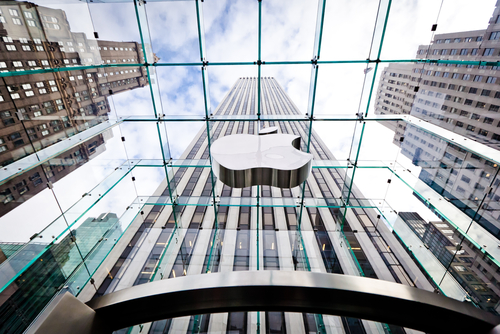 Apple has hired Burberry CEO Angela Ahrendts as a senior vice president reporting directly to CEO Tim Cook. Ahrendts is the second fashion-world CEO poached by Apple in the past few months, following former Yves Saint Laurent CEO Paul Deneve, who also reports to Tim Cook. But unlike Deneve, whose job scope is limited to unnamed "special projects" (which could include a much-rumored Apple timepiece), Ahrendts has a sweeping directive to oversee the expansion and operation of Apple's retail and online stores. Apple's retail division has been without a leader since October 2012, when senior vice president John Browett left the company
after a disastrous six months on the job
; before Browett, Ron Johnson and Apple co-founder Steve Jobs spent years transforming Apple stores into a retailing behemoth. (Johnson would later stumble as CEO of J.C. Penney, where his attempts at an Apple-style refurbishing failed to halt that company's market slide.) "I have wanted one person to lead both of these teams for some time because I believe it will better serve our customers, but I had never met anyone whom I felt confident could lead both until I met Angela," Cook wrote in an internal memo to Apple employees,
according to The Verge
. "She shares our values and our focus on innovation. She places the same strong emphasis as we do on the customer experience." Burberry is a British luxury fashion house, specializing in accessories and fragrances. During Ahrendts' tenure, the brand enjoyed considerable growth worldwide; she was highly paid as a result, and it's likely that Apple had to offer her a similarly generous package to secure her contract. Ahrendts is not the sort of person you hire if you want to make your brand synonymous with cut-rate prices and total market saturation; by hiring her, Cook is effectively doubling down on
a statement he made last month to Bloomberg
, which itself could serve as Apple's motto at a time in which its rivals seem determined to sell as many cheap smartphones as possible: "We're not in the junk business." Even the plastic iPhone 5C, ostensibly the company's "midtier" smartphone, retails for a
rather steep unsubsidized price
. In other words, Ahrendts' hire signals that Apple will continue to pursue the high end of the consumer technology market, which (to be fair) has afforded it enviable margins over the past several years. That strategy is in defiance of the many Wall Street and tech analysts who insist that Apple must produce ultra-cheap iPhones if it wants to compete with the Android manufacturers flooding the market with inexpensive mobile devices. (That same crowd begged Apple to release its own netbook during the latter's brief heyday, which the company ignored in favor of producing the iPad.) Apple's plan for future growth clearly rests on new markets, such as wearable electronics, rather than broadening and cheapening its existing product lines. Tim Cook has found his niche, and he'll rely on executives such as Ahrendts and Deneve to grow it.
Image: Andrey Bayda/Shutterstock.com