Apple
could hire as many as 7,400 more employees over the next three years if all goes according to plan.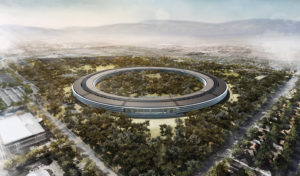 Between the ring-shaped Cupertino campus the company's proposed as its new headquarters and other nearby facilities, Apple will have room to house those thousands, according to
an economic study
released by the company. The study says Apple will expand its headcount by nearly 50 percent between now and the complex's 2016 completion date, which would boost its overall area workforce to 23,400 people. Currently, Apple houses approximately 3,000 employees at its 856,000 square-foot headquarters on 1 Infinite Loop in Cupertino. The study, conducted by the California real estate advisory firm Keyser Marston Associates, asserts that with the new campus Apple would generate $13 million each year in tax revenue for Cupertino, $3.8 million more than it did in 2012. It also would spend an additional $2.1 billion each year on neighboring businesses.
A City Manager's Dream
Apple submitted the study to city officials as part of its bid to gain approval for the 3.4 million-square-foot campus. It says its 16,000 Cupertino-area employees earned an estimated combined $2 billion last year, which works out to $125,000 each. Interestingly, Apple didn't provide specific salary information, so Keyser Marston used state government salary data for Silicon Valley software engineers. It called those numbers a "conservative" estimate of Apple employees' salaries. The company currently employs nearly 73,000 people worldwide, nearly 43,000 in retail. Their salaries are far lower. News of the hiring plans has set off speculation about the projects Apple has in mind. At the company's quarterly earnings call in late April, CEO Tim Cook spoke of "exciting new product categories," though critics repeatedly wonder whether Apple has lost its edge since the death of co-founder Steve Jobs. "Our teams are hard at work on some
amazing new
hardware, software and services we can't wait to introduce this fall and throughout 2014," Cook said. He suggested those projects might include wearable computers and Internet-connected TVs.