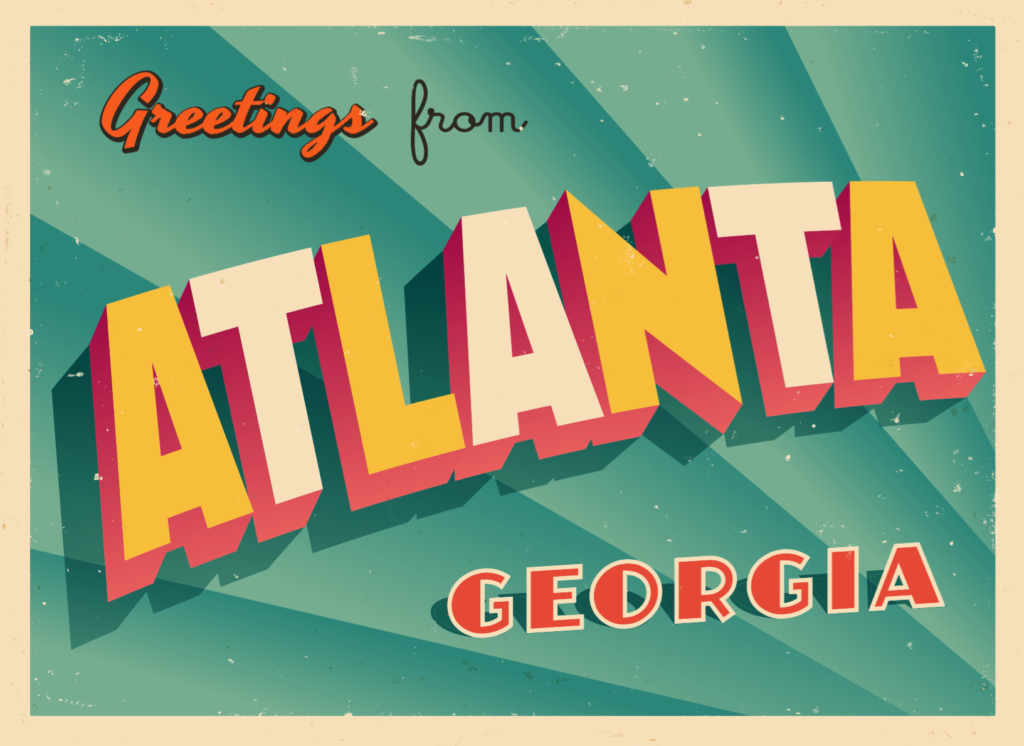 Atlanta's boosters like to portray the city as a boomtown. And while the word "boomtown" inevitably draws accusations of hyperbole, there are a number of indicators that suggest a growing region, strong economy and dynamic tech sector. According the Census Bureau,
the area's population
stands at nearly 5.8 million people, making it the ninth-largest metropolitan area in the country. NerdWallet says it's the most mobile-friendly city in the U.S., while the commercial real-estate company CBRE says it's the sixth-best market for tech gender diversity—as well as the ninth-best market for overall tech talent. What's driving all this? A combination of affordable cost-of-living, good weather and attractive lifestyles, all anchored by a strong economy. "Perhaps one of its strongest assets is found at the intersection of enterprise companies and startups," said Grant Wainscott, senior director of technology ecosystem expansion for the city-based Metro Atlanta Chamber. Noting that the area is home to 25 of the Fortune 1000 and 220 of Inc.'s fastest-growing companies, he also called it "a thriving ecosystem for entrepreneurs and new businesses." Of course, it's Wainscott's job to be upbeat about technology in Atlanta. But others in the tech community largely agree with him. Local enterprises—including Coca-Cola, UPS, SunTrust Banks and First Data Corporation—need technology support and innovative tools. Justin Laliberte, managing partner of the region's IT search practice for Atlanta-based recruiter the Lucas Group, describes a startup scene "trying to create automation around business. Every workflow and process has a lot of disrupters." A growing number of area companies have recognized that technology should be a part of their business, even if it's not
the
business, Laliberte pointed out. As a result, there are an increasing number of new firms that serve these businesses' tech needs. For example, young companies are developing shopping carts and other tools to help e-commerce brands, or supply-chain SaaS tools to support manufacturers. The "key drivers" in both startups and established companies are automation, data and digital innovation, Laliberte added.
Hiring Favors the Young
As in other regions, there aren't enough qualified professionals to fill Atlanta's tech jobs. According to Laliberte, employers are especially keen to find people skilled in Java, .NET, PHP, AngularJS, Node and open-source Big Data tools. Wainscott sees a particular need for software developers, computer systems engineers, architects, and analysts. One challenge for more experienced professionals is that many companies emphasize entry-level or junior positions in their hiring. Often, Laliberte said, employers will seek younger people "who'll just code and get stuff built," while leaving architecture and more advanced work to managers. Of course, those young workers expect less in terms of compensation, something that always factors into an employer's calculations. Another challenge: Atlanta is home to many mobile technology companies, which often hire junior workers over senior professionals. In such cases, "[those firms] want to develop their long-term workforce," Laliberte said.
A Reasonable Cost of Living
Certain dynamics give Atlanta a particularly strong tech labor pool. For example, Wainscott said, more than 275,000 students are enrolled in 70 colleges and universities, often pursuing degrees in computer science, communications, mathematics and statistics, engineering and physics. More than 40,000 degrees are awarded annually. Laliberte said the cost of living and weather make it "easy to get people to move to Atlanta." And even though it's cheaper to live there, the region's compensation packages stack up well against similar tech markets. For example, PayScale says an Atlanta Java developer with five years of experience earns a median salary of $79,000, equal to Austin and slightly higher than Charlotte, N.C.'s $78,000. Meantime, the average home in Atlanta's metro region sells for $300,000, according to the National Association of Realtors. That compares to $397,000 in Austin and $334,000 in Charlotte. That may be one reason why Laliberte calls Atlanta "a transplanted city." He estimated that "maybe 40 percent of the population is native." But whether you're a transplant or a native, opportunity abounds.