[caption id="attachment_12111" align="aligncenter" width="507"]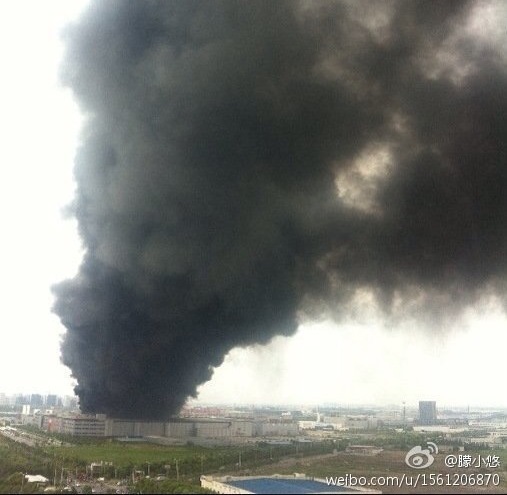 Smoke billows from Wuxi, China factory after chemical explosion and fire.[/caption] Datacenter managers will get a lesson in global-supply-chain cause-and-effect in the coming months as they watch DRAM prices rise following an explosion and fire in a fabrication plant in Wuxi, China. The fire, which followed a chemical explosion during the installation of new manufacturing equipment, began at roughly 3:30 p.m. local time in a plant owned by Icheon, South Korea-based manufacturer SK Hynix, and burned until nearly 6 p.m., according to China's Xinhuanet news service. The Wuxi plant produces about 10 percent of the world's supply of dynamic random-access memory (DRAM) chips, and the fire caused
prices for benchmark DDR3 2-gigabit DRAM chips to rise 30 cents,
the largest single increase since September of 2010, according to Bloomberg (which got sales figures from DRAMeXchange, the largest chip market in Asia). Spot-market prices for memory chips for PCs and smartphones spiked 19 percent over the two days following the fire. The impact on global DRAM prices is still uncertain but likely to be significant, according to financial and tech-industry analysts. Initial reports indicated the fire did enough damage to the fab's clean-room facilities to stop or slow production at the plant for six months,
according to component-market-watcher TrendForce.
An email notice from the company Sept. 4 said there was no serious damage to the plant's clean room, that the plant would be back to full production shortly, and that global supply would not be affected. But later reports from financial-research firm Korea Investment & Securities in Seoul corrected both early reports, saying the fire did substantial damage. It would take about a month for SK Hynix to bring it back to full production volume, according to Bloomberg. With total market share of 30 percent, SK Hynix is the world's second-largest memory chip maker, following Samsung Electronics with 32.7 percent market share. The Wuxi fabrication plant makes half the memory chips SK Hynix produces monthly – a total of 10 percent of total global production of DRAM chips. Buyers relying on chips from the Wuxi plant include Apple, Samsung, Lenovo, Dell and Sony. It hasn't been long enough since the fire for a drop in production to have had an impact on global DRAM supply, but if production in Wuxi is held up more than a week, it could cause substantial shortages and higher prices in the mid- to long-term, according to a report from research firm Sanford C. Bernstein & Co. OEMs and resellers who buy processors from the Wuxi plant have slowed or stopped shipment of chips bought at pre-fire prices while they wait to gauge the effect of the fire on global DRAM pricing,
according to Asian electronics-industry news source KitGuru.
Prices for lower-end DRAM are likely to rise by small percentages, while prices for higher-end chips will "leap up like a leopard," according to KitGuru's analysis. High-performing GDDR5 chips from the plant go into nVidia's fastest GeForce GTX video cards, "so if you were thinking about buying one – then NOW might be the right time,"
according to KitGuru.
The fire was caused by a chemical explosion during the installation of new equipment in the plant, shutting down production immediately. Most of the fire and damage were concentrated in the fab's air purification systems and roof, rather than in the fab equipment itself, suggested local reports. "It seems that Hynix got lucky and the actual damage from the fires will not be as severe as feared," KitGuru wrote. Nevertheless, a fire that impacts production of 11 million PCs, 10 million smartphones and a host of other products at both high and low ends of the market are likely to increase prices and keep them high at least through the end of the year,
according to TrendForce.
A 2012 flood that damaged Western Digital hard-drive factories in Thailand drove up HDD prices for a full year, KitGuru reported. "We can't see this being any different."
Image: Weibo.com/Sina.com news service