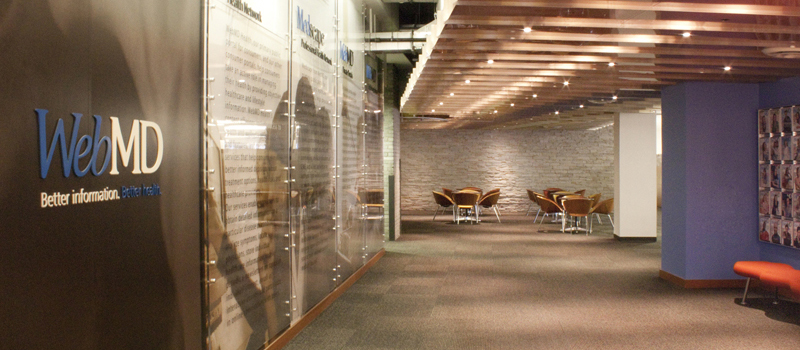 WebMD
calls itself the leading provider of health information services, offering a consumer website, a network for physicians and healthcare professionals, and a private portal service for employers and health plans. Its WebMD.com has one of the highest usage rates in the sector. Headquartered in New York, the company has 11 offices across the U.S. and Canada. Of its more than 1,600 employees, about 350 work in technology.
Click here to find a job in health IT.
Director of Recruiting Curtis Flack is searching for candidates to fill positions in
database engineering
,
.NET software engineering
,
DevOps
,
network architecture
(for very large environments) and
front-end Web development
. In terms of skill sets, he's most concerned that senior technologists "have experience with Big Data and high availability, high trafficked websites." Candidates with less experience must have a high aptitude for learning and applying new skills quickly.
How to Navigate a Job Posting
Candidates should pay particular attention to the listed job requirements. While there may be leeway when it comes to requirements listed as "preferred," Flack stresses that each candidate "absolutely must meet required qualifications to be considered for the position to which they apply."
Upload Your ResumeEmployers want candidates like you. Upload your resume. Show them you're awesome.
The Hiring Process
WebMD's interview process varies by position and department, but Flack says the company generally conducts a phone interview before any on-site meeting. During the in-person session, candidates will be rigorously vetted and should be prepared to demonstrate their technical knowledge. To prepare, do your research. "At WebMD, we're a team with a common purpose but many parts," says Flack. "We like to hire people who are interested in contributing to something special, and we believe you need to understand at least a little about the company and business unit to which you've applied." He recommends that you take time to read the company's healthcare websites as well as its corporate site to understand its business model and its functions.
What Makes a Good Fit?
Flack emphasizes WebMD's merit-based culture. "We value employees who can get things done," he says, adding that the company considers both attitude and aptitude when it hires. Recruiters look for people who have passion and show initiative for learning new skills. You must be able to play well with others and have a real desire to work in a collaborative environment.
See more Landing@ stories here.
Advice for Seasoned Professionals
Highlight your experience that's most relevant to the specific position you're applying for, and also focus on what in your background makes you a good fit with WebMD's overall business. Flack suggests that when applicable, you send links to recent work samples.
Advice for New Graduates
"Recent graduates can get our attention by highlighting applicable internships, or at least relevant projects, on their resumes," Flack says. "Naturally, we also look for new grads with demonstrated achievement in terms of their coursework and grades."
Related Articles
Image: Truisi Design Group