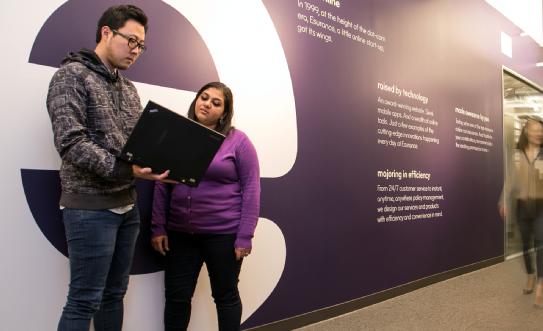 Esurance
is an online auto, homeowner, renter and motorcycle insurer that offers direct-to-consumer insurance in 42 states, as well as service through partner providers in the remaining eight. Headquartered in San Francisco, the company has 3,200 employees in 17 offices across the country. More than 300 work exclusively in technology. Gregg Sears, senior manager of talent acquisition at Esurance, says the company is currently looking for a variety of technology professionals including
senior software developers
,
software developers
,
data analysts
,
storage
and
virtualization
specialists,
release managers
,
DevOps
and
senior systems engineers
. Ideally, his recruiters are looking for applicants with:
Click here to find tech jobs in the insurance industry.
How to Navigate a Job Posting
"We look for candidates with the specific technologies and system experiences outlined in the job description," Sears says. "In some situations, we're able to hire candidates with comparable skills, but it's very important that an applicant's resume be specific to the job they're applying for." In addition, before applying you should be clear about what you want your next career move to be. "If a candidate applies for multiple positions, we may assume that they're unsure where they want to go in their professional life," Sears explains.
The Hiring Process
Esurance's hiring timeline is very straightforward. In most cases, candidates will have a phone interview with both the recruiter and hiring manager. If those conversations go well, they'll be brought in for an on-site interview. "The interview is typically conversational, so candidates should be ready to answer and ask questions along the way," Sears says. He also stresses that candidates should do their homework. "Prior to coming in, candidates should learn a bit about Esurance as a company," he says. You'll get points for knowing something about the associates you're interviewing with, as well.
What Makes a Good Fit?
Individuals who want to be a part of a diverse workplace where creativity and innovation are encouraged fit well at Esurance, according to Sears. Since the company views itself as a market-driver in the evolution of self-directed insurance, recruiters and managers value associates who are motivated and enthusiastic about changing the way consumers think about insurance. They look for commitment to helping the team maximize revenue and enhance brand value, as well.
See more Landing@ stories here.
Advice for Seasoned Professionals
A strong brand on all social fronts is important. Sears recommends that you connect with the recruiter and manager via social media platforms. "Most recruiters follow good candidates via blogs, conference lists or marketing events," he says. "It's important to see if you have any connections to the recruiter and have your network send a message on your behalf."
Advice for New Graduates
The best way for those with little work experience to get noticed is by completing a substantive internship that's related to their specific discipline.
Upload Your ResumeEmployers want candidates like you. Upload your resume. Show them you're awesome.
Related Articles
Image: Esurance