The patent wars just won't end. In a recent effort to increase its patent database, Google acquired 1,023 patents from IBM. This move was made on Aug. 17, but was just made public a week or so ago, in the middle of the
fight between Samsung and Apple
and after Google bought Motorola for $12.5 billion. Before being bought by Google, Motorola was sued by Apple, which claimed that Droid phones have significant similarities with the iPhone. Then Apple saw an opportunity to file a new motion contending that Motorola lost its patent rights after it was acquired. According to
FossPatents
, Apple's lawyers said:
Motorola has ceded control of the most basic rights regarding the patents-in-suit. Absent Google's consent, Motorola cannot: (1) sue for infringement of its patents in any new action; (2) settle pending litigation (including this case) that would require a license to any of its patents; (3) license or sublicense its patents except in limited circumstances relating to the sale of Motorola's products; (4) assign its rights in its patents; and/or (5) grant a covenant not to sue for infringement of its patents.
Analysts anticipate multiple fights involving Apple, Google and Microsoft. That's why Google keeps expanding its portfolio with more and more patents. It seems like the best way to defend itself against its tenacious rivals.
Like many tech companies, at times we'll acquire patents that are relevant to our business.
The general counsel of Google, Kent Walker, says the company is young and has a small amount of patents, so the August purchase was just an opportunity to increase the number it owns. Earlier this summer, six big tech companies (Apple, Microsoft, RIM, Sony, EMC and Ericsson) acquired some 6,000 patents from telecommunications giant Nortel for $4.5 billion. The portfolio includes patents covering wireless, wireless 4G, data networking, optical, voice, internet, service provider, semiconductors and other items. Previously, Google had made an offer for $900 million. Let's not forget about HTC, also an important player in this war against Apple. We've reported about the
complaint filed by HTC against Apple
over software upgrades. The disputes between HTC and Apple have a long history. Thanks to Florian Mueller, we have a map of the complaints.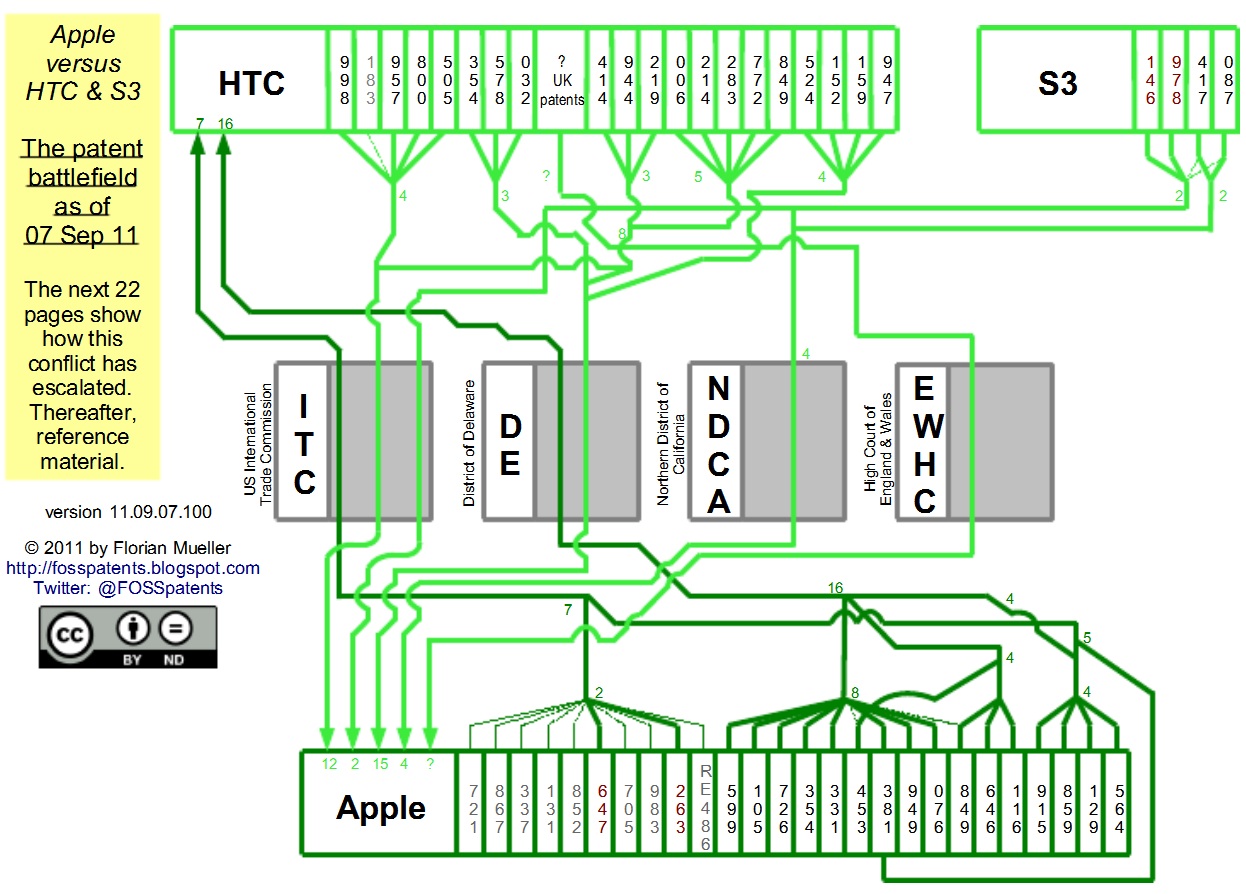 Now the International Trade Commission will investigate a July court decision that found HTC of infringing two of Apple's patents. Both Apple and HTC must send documents before Oct. 6, and the ITC will complete its investigation in December.
The patent war won't end any time soon. As we prepare to enter 2012, the odds are that more big players will continue the fight and file more complaints to reaffirm their supremacy. A single thing is sure: THE PATENT SYSTEM IS BROKEN! Image:
TechWrench