[caption id="attachment_141770" align="aligncenter" width="3346"]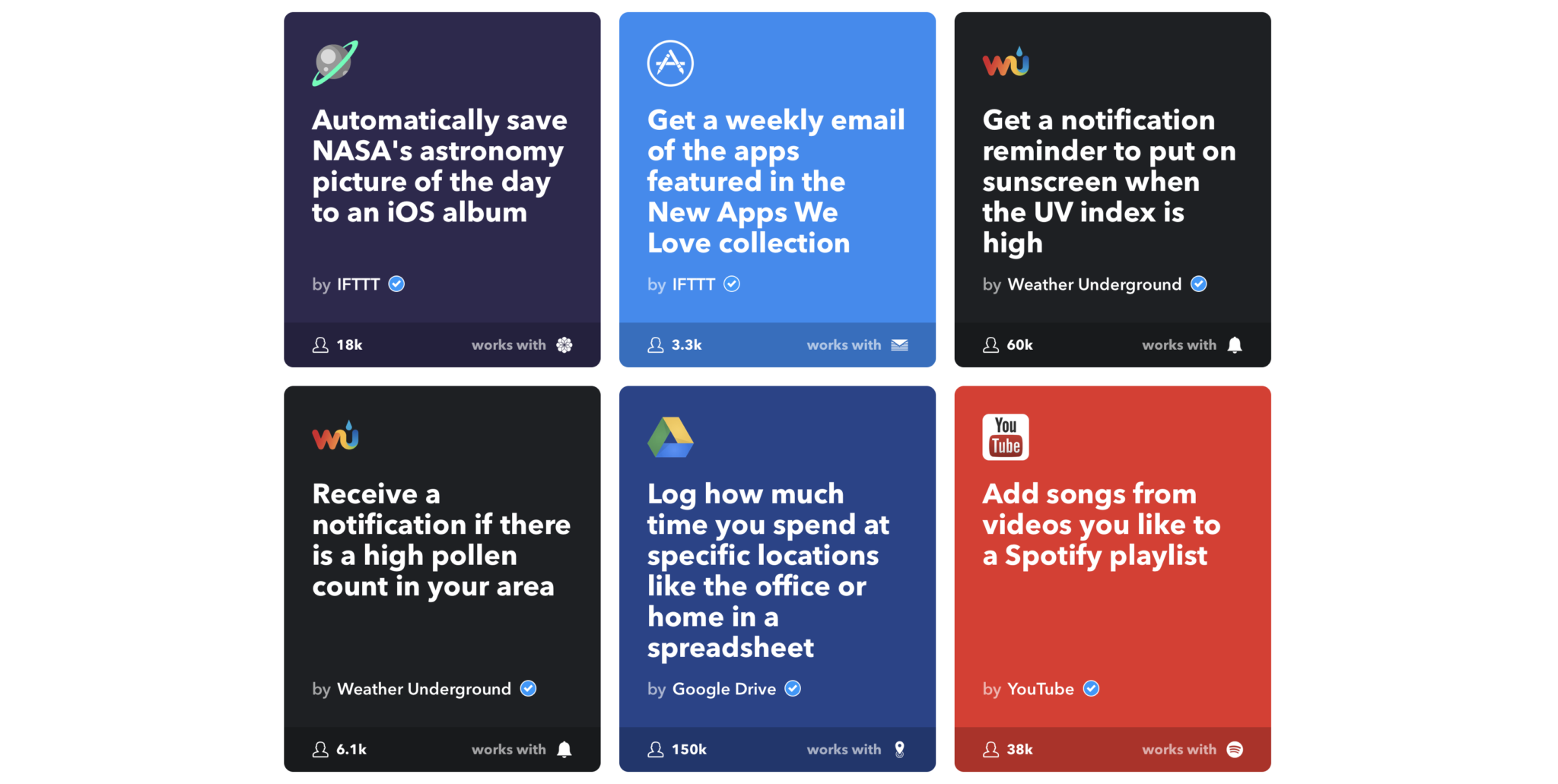 IFTTT applets[/caption] IFTTT is opening its platform up to every developer: The applet tool that the company
announced last year
for enterprise customers is now available to independent developers everywhere. The company says it now has over 10 million applet users and 100 partners, and sees a 50 percent uptick day-to-day in how many applets are activated. It also says over 200,000 people are already using its developer tools. This new tier, which it is calling "Maker," will let anyone tap into tools already in use by partners (save for content such as analytics and multiple user support). The applets were designed to allow companies to add IFTTT "recipes" to an app. It's all a workaround for the fabled 'Internet of Things.' With the right recipe and gadgets, you can automate just about every segment of your life. Makers will have a profile page where their applets are available, which are also discoverable via IFTTT's main site. Those making applets aren't restricted, either. You don't have to own a gadget to create an experience; if you wanted an email every time your car was in the garage and your Nest thermostat read 75 degrees or higher (why you'd care,
I don't know
), you wouldn't need a Nest – or even a car. So long as both hardware partners offer an API for use with IFTTT, there's no barrier. With this broader rollout of the Maker tier, IFTTT is also adding filters for applets. Using a JavaScript filter code, developers can add features such as randomization or conditionals to applets. It sounds fairly boilerplate, but existing applets and recipes are almost a bit binary. IFTTT may not be the official automation service of any major tech company, but it
bridges a long line of gaps
left by proprietary devices. As standalone connected gadgets, thermostats and cameras (and whatever else the Internet of Things has for us) do little beyond letting you use an app to control settings. The Maker tier will let anyone solve problems they have in their own homes, or perceived issues with existing hardware. Perhaps the lone caveat is that applets
won't find their way to apps
without the companies behind said apps adding them in. It's not clear how much that affects discovery of an applet, but it's something we hope finds its way to the next iteration of IFTTT.