On the surface, the Olive ONE might look like just another media player, but if you poke around in its guts you'll realize that it's actually an entirely different animal.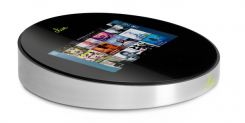 The digital age has made pretty much made everything except music better. Back in the 80s, television came out of a heavy box with a tiny screen: a tiny, low-definition screen. Today, I have a 56" monstrosity that takes up much less room. The picture is so great that I eschew DVDs in favor of Blu-rays because my eyes can no longer bear the sight of those grainy sub-1080p images. If you ever watch a classic movie on Blu-ray, you notice all kinds of imperfections that were not visible at the original resolution, and it's beautiful how far we have come. Few people will compromise when it comes to video, so why is it that so many of us are prepared to accept a lesser quality for music? Why is it that the world's largest purveyor of digital music still deals mostly in 320kbps MP3s? If the folks at Olive HD have their way, how we listen to music may change. The Olive ONE, which is currently up for funding on Indiegogo, is what many would deem an an "audio-file grade" media player. It allows people to play music of the same level of quality as its original studio recording and that means the way it was meant to sound. It may seem that this idea is nothing new. There are other high definition media players on the market but what makes the Olive ONE special is the price point, the compatibility and its onboard software. Its onboard amplifiers are pretty good too. A hard disk drive is not a standard option in the ONE; you can give it a terabyte for an extra $100. A hard disk will allow the ONE to act as your own music cloud, accessible from anywhere on the planet that has Internet access. The ONE does not have this functionality without a hard disk, but it will still collate and allow you to access all of the music that you have stored in machines on your home network. The quality of playback will of course depend on the quality of the files in question. The folks at Olive HD have big designs for their ONE player. Should the funding round prove successful, they plan on releasing a range of add-ons, including modular speakers and lighting. There is also the possibility that the whole ONE unit will be customizable. If the device takes off, the open platform release should prove interesting. The time is not just right for high definition digital music to go mainstream, it's long overdue. Being able to buy music online is wonderful thing and 320kbps is better than tapes but there is a whole world of detail that gets chopped from a track in the name of compression. Once you have heard it, it's hard to go back. The $400 asking price seems reasonable and Olive HD has a good history with high-end media players. A peek under the case reveals some innovative electronics but the question is whether the public will be prepared to drop that much money on something they've never heard. Whether the device is huge, or not, may matter little. The main attraction is that a private company has taken the initiative that the major electronics manufacturers have failed to seize and have managed to raise just under $48,000 of its $200,000 goal in just two days. There's a very good chance that this player will actually be coming soon to a living room near you.
Specifications
Wireless HD docking station:
Bluetooth 4.0: Connect to your favorite smartphones
Dual-band Wi-Fi 802.11n
Wi-Fi DirectTM: Play music in HD quality from your smartphone
Wi-Fi Certified MiracastTM: Access the user interface and music on your TV.
UPnP/DLNA: Play music from your Mac, PC or NAS
Multi-room music streaming: Add ONE to each room and play the same or different songs
Use the free iOS or Android app to control your ONE
Music Operating System:
Smart: Using our patented SESSION technology Olive ONE learns from your listening habits. The more you play, the smarter it gets.
Social: ONE integrates seamlessly into your favorite social networks. Post or tweet your favorite new music discovery with one simple touch of a button. Or rate, review and share your love for music with the Olive community.
Open: If we reach critical mass (i.e. number of units) the ONE platform will be interesting to app developers and artists. We are working on a Software Development Kit so developers can deliver cool music apps. And we have designed an Open Music Platform that allows artists to bring you studio master quality recordings directly to you.
Audio technology:
Best-in-class Burr-Brown 32-bit/384kHz Digital-Analog-Converter with amazing SNR of 112dB!
Dual HD amplifiers for direct output to your speakers
24-bit DSP with our patented PRISMTM technology that dynamically adapts the sound output to your brand and model speakers, as well as music genre and other acoustic parameters
Dynamic compression technology for streaming music in full HD quality up to 24-bit/192kHz (depending on network quality)
Optional hard disk drive:
Ultra-quiet 2.5" AV hard drive with up to 2TB stores a maximum of 6,000 albums in CD quality, or 20,000 HD tracks. Enjoy instant access without relying on your network or Mac/PC.
Home Cloud Service: Access music stored on your ONE, anywhere in the world.
Image:
Olive ONE
[Indiegogo] http://www.youtube.com/watch?feature=player_embedded&v=8PkJTLN9UJo