Gary Moore, previously head
of Cisco Services, becomes the company's chief operating officer. [
CMSWire
]
Facebook hired the team
behind recruiting service Pursuit - Louis Eisenberg, Russ Heddleston and Nicholas Letourneau. [
TechCrunch
]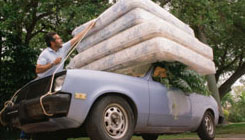 Markus Fromherz becomes
chief innovation officer for Xerox's Health IT unit. [
InformationWork
]
Jimmy Z. Wang is CIO
of Teva Pharmaceuticals Americas, based in North Wales, Pa. [
InformationWeek
]
Pa.-based MEDecision
named Deborah M. Gage president and CEO. [
BW
]
Content-management provider
SpringCM named Antonis Papatsaras chief technology officer. [
CMSWire
]
Birger Steen adds CEO
to his title (president) at virtualization software vender Parallels. He's been with the company six months, and before that was at Microsoft. [
CRN
]
Virtual, a technology-focused
association management company hired Mary McRae as vice president, technical committee support. [
BW
]
Alan (Al) F. Nugent has become
CEO of Mzinga, a creator of social intelligence solutions. [
BW
]
Tony D'Astolfo is senior vice president
of Rearden Commerce, and e-commerce platform company. [
BW
]
Virsto Software named Eric Burgener
vice president of product management. [
BW
]
Tony Scrimenti becomes executive vice president,
chief information officer at Scivantage, a provider of Web-based, front- and middle-office technology solutions for the financial services industry. [
BW
]
Mike Frank joined Gazzang,
an Austin cloud infrastructure company, as director of products. [
BW
]
Cognosante promoted Thomas Stepka
to EVP and chief operating officer. He's based in McLean, Va. [
BW
]
Got moves? Share them with us. Send them to editor@dice.com.
-- Mark Feffer