[caption id="attachment_5337" align="aligncenter" width="618"]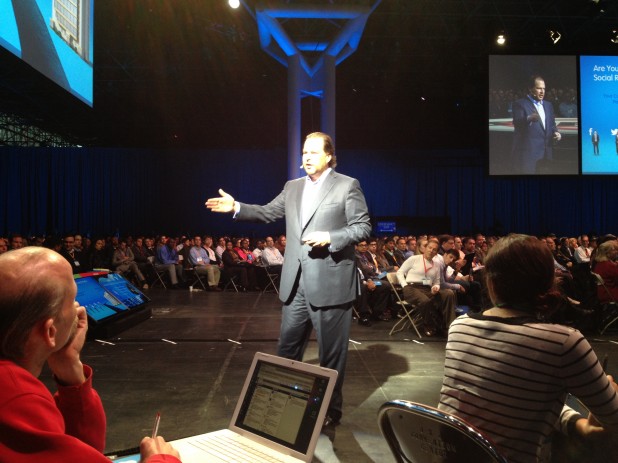 Salesforce CEO Marc Benioff gives his keynote at Cloudforce New York.[/caption] Salesforce CEO Marc Benioff's keynote at Cloudforce New York hit many of the same points as his Dreamforce '12 keynote last month in San Francisco: social and mobile are changing business, Salesforce is dedicated to embracing both, and so on. And while Benioff and his team of executives used their time onstage to walk through products that made their debut at Dreamforce—including Salesforce Touch, a mobile sales application, and Chatter Communities for Partners—there were some new bits on display at the show. Chief among them: the new social analytics options layered into the Salesforce Marketing Cloud. Marketing Cloud gives Salesforce clients the ability to manage their presence across social channels, measure engagement levels, and target with social advertising. It combines assets from the company's earlier acquisitions of Buddy Media and Radian6. And it faces a lot of competition in the quarters ahead:
archrival Oracle has its own social-marketing efforts
, which it's also enhanced via a set of acquisitions, and over the summer Google bought Meebo, a provider of social-networking tools for consumers and advertisers. With an eye toward staying ahead of that competition, Salesforce is leveraging the burst of attention around Cloudforce New York to announce an expanded Marking Cloud ecosystem with software from 20 social-analytics vendors. Those analytics include the ability to identify sales leads, detect any emerging trends around a particular topic or keyword, and content analysis in 17 languages. Those vendor partners include Klout, Calais, Bitext, and Kanjoya (among others). While much of the attention devoted to social analytics has centered on Twitter and Facebook, other social networks are increasingly the target of organizations looking to mine insight from tons of user data. Tumblr recently named Union Metrics its "preferred analytics provider," and a number of analytics platforms have emerged for Pinterest,
including U.K.-based Pinalytics
.