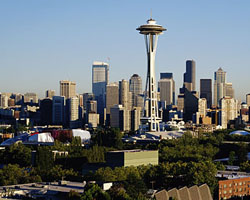 Area's VC Firms Look for More Investments Out of State:
Venture funding in Seattle is declining, despite the region's sizable technology industry. Many area firms are investing outside of the state. Last quarter, VCs invested $132 million into Seattle companies, a 37 percent drop from the same period in 2010.
GeekWire
Facebook Will Develop Skype Interface in Seattle:
Facebook confirmed its new video chat service will be built here. The opt-in feature will allow users to launch video chat with one click, so long as the other party has a video camera. "If it was any easier to connect it would involve reading your mind," one engineer said.
Seattle Post-Intelligencer
Amazon Will Release Tablet in October:
The company hopes the Android device, with a nine-inch screen, will encourage customers to buy and rent more from its huge warehouse of digital content. The product will compete head-to-head with Apple's iPad.
Wall Street Journal
Californians Wooed By Amazon:
Amazon is turning to California voters in an attempt to repeal a law requiring it to collect sales tax from the state's consumers. The company filed a petition to include the question on state ballots.
TechFlash
Microsoft Encourages Nudges Partners Toward the Cloud:
Steve Ballmer told Microsoft Worldwide Partner Conference that the cloud "is where things are going and we want you to come with us. You are going to have to continue to remap and retrain yourselves."
CNET
Seattle Outsourcing Company Focuses Overseas
: Seattle-based iSoftStone is blending cultures to produce a new kind of global firm. The company specializes in IT outsourcing for Chinese and multinational businesses including UBS, Citi and Huawei. iSoftStone is expected to double its employee count this year.
Seattle Times
PopCap Tells Fans Nothing Will Change:
PopCap says its acquisition by Electronic Arts won't change its culture or products. In an e-mail to customers, the company sought to reassure fans and noted its "creative culture is the main reason EA was interested in us. We're not changing our focus from creating awesome casual games everyone can enjoy."
TechFlash