There's always a lot of chatter about which types of jobs to avoid, the languages and skills with great earning potential, and which benefits you should be asking for. Some jobs aren't as flashy as others, but maybe those are the ones you want to look for.
While income is only one aspect of a great job, it's also a barometer for long- and short-term opportunity. A promising language or technology (such as artificial intelligence and machine learning) can cause the average salary for a related job to rise, sometimes rapidly. Meanwhile, decreasing salaries (often in conjunction with other trends) can indicate jobs in decline.
Then, there are the jobs that just sort of stick to a relatively narrow salary range. They're not fancy, and they don't draw a lot of buzz. Nonetheless, the people in these jobs are often the true heroes when it comes to ensuring that companies keep operating.
[caption id="attachment_146616" align="aligncenter" width="1556"]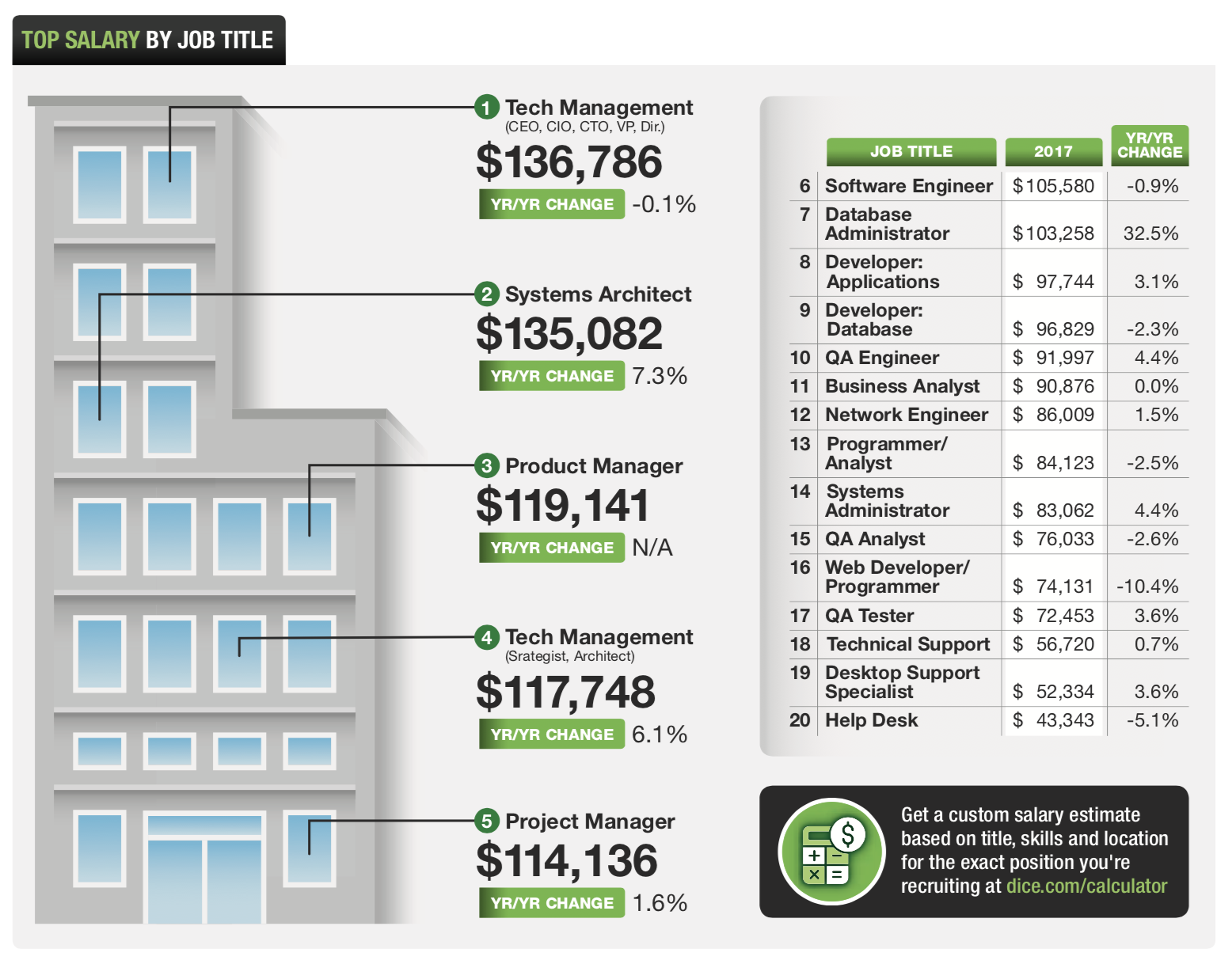 Top paying jobs[/caption]
Tech Management, the top earner in the Dice Salary Survey, is also one of the more stable jobs. Its $136,786 annual salary only shifted down one-tenth of one percent year-over-year. Product Manager – a job that will earn you $119,141 (and is third on our top salary list) – had no change YoY.
Business Analyst, with an annual salary of $90,876, also had no change YoY. The ubiquitous 'Software Engineer' role earns $105,580 on average, but trended down 0.9 percent YoY. Technical Support was down 0.7 percent to $56,720.
This trickles down into skills, too. Hadoop, SOLR, RabbitMQ, Amazon Route 53, Jenkins, Vagrant, Kanban, JDBC, and SOA all sit at the intersection of top-paying skills in their field that had less than one percent change in salary YoY. (Moreover, we've identified skills as a better path for earnings when compared to languages; learning top-earning skills may also help you land those traditionally secure jobs, which is the best win-win scenario we can think of.)
If you're looking for stability, look at these professions and skills; they seem unlikely to shift or decrease anytime soon.