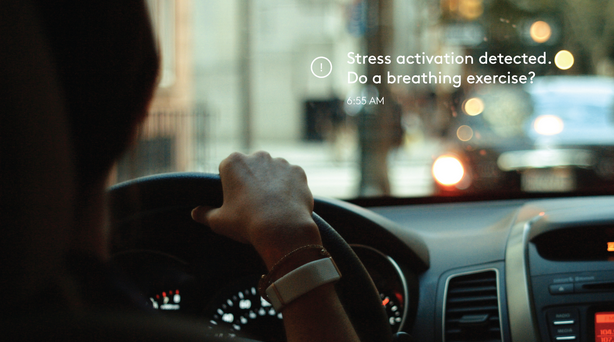 The jury's still out on whether wearable electronics will grow into a huge market, but that hasn't stopped manufacturers and designers from rushing into the space.
Apple
, Motorola,
Samsung
, Nike, and other big-brand tech names have devices either in development or available to purchase—if you want to record your activity, while receiving email notifications via a hunk of metal and plastic strapped to your wrist, you now have a variety of options, all capable of doing a great variety of things.
Click here to find jobs related to wearable electronics.
But not every device on the market is meant as a multi-tool. Take Olive, for instance, an Indiegogo project billed by its creators as an "intelligent bracelet"
that allows the user to monitor stress levels
. The hardware uses heart rate, skin temperature, and other biological factors to determine whether the wearer is stressed out; an accompanying smartphone app offers advice on how to calm down, both in the moment and long term.
Upload Your ResumeEmployers want candidates like you. Upload your resume. Show them you're awesome.
Like other "smartwatches" and smart bracelets, Olive relies on tactile input—double-tap it to record a moment when you feel good, rub it when you're stressed. As with other devices, the bracelet and its accompanying software will presumably track such inputs for patterns, and adjust accordingly. Olive looks like it'll meet its Indiegogo funding well ahead of time, which means its chances of eventually making it to consumers are good. If small wearable-electronics projects like that prove a success, it could help transform the market into an interesting and innovative place.
But not all startups that concentrate on hardware will succeed.
Related Articles
Image: Olive