Software developers
have a well-founded confidence in their ability to change the world, according to a
survey by IT automation company Chef.
And more than half foresee their careers as a path to becoming rich someday. More than two-thirds -- 69 percent -- of developers describe their profession as "recession-proof," with opportunities not just at traditional tech companies, but across a range of industries. Indeed, the unemployment rate among all tech occupations fell to 2.7 percent in the first quarter, according to data from the Bureau of Labor Statistics.
Click here to find software developer jobs.
Between 2007 and 2012 software jobs in manufacturing grew by 31 percent, in healthcare by 72 percent, in financial services by 40 percent and in retail by 98 percent. Those numbers come from platform provider Burning Job Technologies. The company found jobs in software development growing three times as fast as jobs in other sectors – and across the country, not just in traditional IT hubs. Among the 1,000 developers surveyed by Chef, 94 percent said they expect to be a revolutionary influence in major segments of the economy during the next five years. The great majority – 95 percent -- feel they are among the most valued employees at their company, and 89 percent say their company's leaders see them as essential.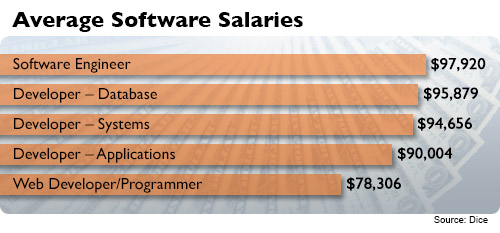 However, the survey casts doubt on the idea that developers are eager job-hoppers. Seventy percent said they plan to stay put for five years or more, while about half plan to stay for seven years or more. A quarter expect to remain at their current employer for more than 10 years. Among the Chef survey respondents, more than half believe they will become a millionaire at some point. However, that's not their primary driver, says Stacy Gallagher Ployhar of 2020 Financial Planning in Seattle. "The technology workers that I've had as clients don't have large lifestyles. They're more interested in experiences – furthering their career, travel, contributing to causes they're passionate about," she says. "A huge incentive is working with like-minded people, working in a collective environment with people who are innovative and inspiring – that's a huge dynamic."
Related Stories
Image: Dice