[caption id="attachment_8364" align="aligncenter" width="618"]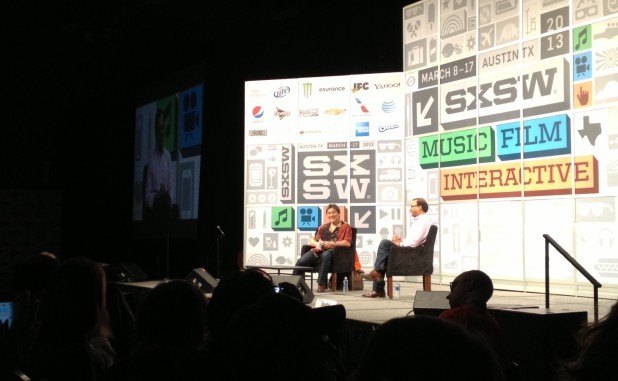 Guy Kawasaki (l) talks search with Google SVP Amit Singhal (r) at SXSW.[/caption] AUSTIN, TX—How do you build a search engine that's more attuned to natural language, capable of divining what you mean and giving back what you want? That was just one of the questions pondered when Google senior vice president Amit Singhal sat down with Guy Kawasaki, former chief evangelist for Apple and author, at one of this year's SXSW keynotes. The two executives also focused a good deal on mobile, which intersects in several ways with the development of natural-language search. "Our dream is for search to become the 'Star Trek' computer, and that's what we're building today," Singhal said. But he seemed reluctant to share much about his company on a more tactical level, parrying Kawasaki's queries about everything from the amount of code in Google's search platform to recent cyber-attacks on the company's systems. Singhal was more forthcoming about the challenges facing the world's largest search company. "All parts of the Web are growing," he said. "Early on, people were just amazed if search at all worked… people weren't fully expecting search to work and they were amazed when it did." More than twelve years later, though, "people have completely come to expect search engines to work, and the questions they've been asking have become harder and harder." Mobility is pouring gallons of gas on that particular fire. "Google, in the early days, we saw our search growing exponentially," he said. "With mobile it was like watching my second child growing even faster." As mobile search became more sophisticated, and devices such as smartphones more ubiquitous, Google realized that people never really stop searching the Web—when they step away from their laptops and desktops at the end of the workday, they simply start tapping away at the hardware in their hand. "People are searching all the time."
SEO
Kawasaki veered the next stage of the conversation onto the topic of SEO, and how companies can improve their search rankings. "We at Google have time and time again said—and seen it happen—that if you build high-quality content that adds value, and your readers and your users seek you out, then you don't need to worry about anything else," Singhal said. "If people want that content, your site will automatically work… you could make a bunch of SEO mistakes and it wouldn't hurt." "Is SEO bullshit?" Kawasaki asked. "That would be like saying marketing is bullshit," Singhal said, which drew a laugh from the audience—and maybe some gritted teeth.
Creating the Future
As with most huge corporations, Google faces competition on a number of fronts. Its Android operating system competes directly with Apple's iOS, BlackBerry, and Microsoft's Windows Phone. Its search engine, while dominant in terms of market-share, still has rivals in the form of Yahoo and Microsoft's Bing. And in recent years, Facebook has managed to seize a larger chunk of the online advertising that powers Google's bottom line. Google is pushing back against those competitors with a number of initiatives. Google Now,
a feature of Android 4.x
, attempts to make users' lives easier by offering essential information at the exact moment they need it—for example, it can learn your commuting habits and provide relevant traffic data. But the
competitive moat
between mobile operating systems is never very wide; chances are good that, sooner or later, Apple and Microsoft will produce similar feature-sets. In summer 2011, Google also launched its own social network, Google+, with an eye toward pushing back against Facebook. By December 2012, Google claimed the platform had 135 million users active in its activity stream, while some 235 million engaged with the Google+ features baked into other Google services, such as Hangout video chats in Gmail. However, a percentage of users objected to Google's decision to surface Google+ information alongside Google search results, feeling that spreading their personal data across various Google services constituted an invasion of privacy.
In a December 2012 interview with Fortune magazine
, Google CEO Larry Page cast that decision about Google+ data in the most positive of lights. "We have to understand anything you might search for. And people are a big thing you might search for," he said at the time. "And so we think about it somewhat differently. We're going to have people as a first class object in search. We need that to work, and we need to get started on it." He added: "It's important if we're going to do a good job meeting your information needs, we actually need to understand things and we need to understand things pretty deeply." Google+, Google Now, and new generations of Nexus tablets and smartphones are all elements of Page's ultimate mission: make Google a more streamlined and unified beast, one that draws strength from a carefully pruned portfolio of interconnected products. Onstage, Singhal suggested that voice could prove a crucial component of future search. "Voice is a far more natural interface with a device," he said. "You still need to have other modalities to interact with that, but voice is a key component of interacting with search." He compared Google's search to the "Star Trek" computer, again. "The captain walks up to the computer and says, 'Computer, what is the atmosphere on that planet down there," he said, reminiscing about how the show fascinated him as a child growing up in India. In some future world, if his vision for search becomes a reality, "you can walk up to your computer and say, 'Hey computer.'" But how will they sell ads against that?
Editor's Note: The version of Android that first included Google Now has been clarified.