Our weekly snapshot of who's hiring and who's firing across the IT landscape.
HIRING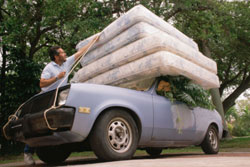 AT&T
plans to fill more than 120 openings in South Carolina. More than 70 of them will be new positions to serve its network expansion effort, part of the company's Project VIP, which is designed to increase the density of its wireless network with more macro sites, antenna systems and small cells. [Dice News] IT management software company
SolarWinds
is
hiring for its new technology hub in Salt Lake City.
Currently, it has 10 to 15 positions open for software developers, product managers and sales and marketing staffers. As the company continues to build out the facility, it will hire in software engineering, IT support, research and development and general operations. [Dice News]
Natcore Technology
plans to add 27 jobs at its research and development facility in Rochester, N.Y., which will each pay $98,000 annually. [Rochester Business Journal]
LAYOFFS
NetApp
is reportedly gearing up to cut 10 percent of its workforce in under-performing areas, such as its LSI disk array business
Engenio
. The anticipated cuts, noted in a Piper Jaffray analyst's note, are expected to affect 1,300 workers and come as the company seeks to maintain strong operating results. [The Register]
Agilent Technologies
plans to cut 450 workers worldwide after its profits fell 35 percent in the second quarter. The layoffs are expected to impact 2 percent of the company's global workforce. [Santa Rosa Press Democrat]
Lenovo
has initiated job cuts in North Carolina as it evolves its PC business toward a more diverse product line. It's unclear how many cuts were initiated at the company, which has approximately 2,000 workers in the state. [WRAL TechWire]
Communications Systems
plans to layoff 12 people in its fiber unit in Minnetonka, Minn. The layoffs will affect about 8 percent of the company's
Transition Networks
business unit, which employs approximately 150 employees. [Star Tribune]
IBM
instituted a round of layoffs this week at its Essex Junction, VT, plant. While Big Blue declined to provide figures on the size of the layoff, it's likely less than 500 employees, given IBM would have had to issue a WARN notice. [WCAX.com] During the second quarter,
Northrop Grumman
cut its workforce by nearly 22 percent, while
Lockheed Martin
let go 19 percent and
Boeing
at 13 percent. Other defense contractors who instituted large cuts include
Raytheon Company
and
General Dynamics
, which cut their headcount by 7 percent each. [iStockAnalyst]
Is there hiring or firing going on at your company? Email what you know — in confidence, of course — to
tips @ dice.com
. (And remember, you probably don't want to send from your company email address.)