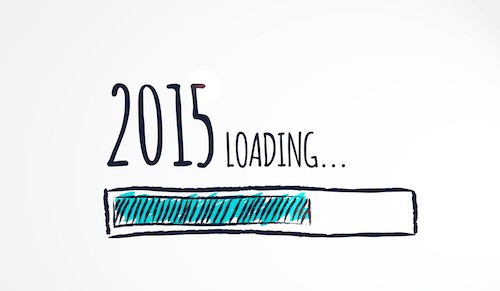 If you'd like to change jobs or switch from freelance to full-time status, prepare to pounce: 2015 is shaping up to be a blockbuster year for the IT labor market, according to David Foote, CEO of research firm Foote Partners LLC. "This year started out slow, just as we predicted," Foote said. "But U.S. employers added an average of 17,633 IT jobs during September, October and November, and we see that momentum continuing into 2015." Foote's optimistic forecast is based on his discussions with CIOs and his firm's
surveys of compensation and market demand
for 734 individual certified, noncertified and hybrid IT skills. (Independently, a recent Dice survey also concluded that
tech hiring will rise significantly in 2015
.) Of course, some tech skills will be hotter than others. In what has become an annual tradition, Foote went out on a limb by predicting the IT roles that are most likely to gain or lose ground in the new year, and briefly revisited his
projections for 2014
.
Gaining Ground
These positions could lead to solid salaries and job security in 2015:
Architects:
Enterprise architects
and
data architects
will be able to "name their price" in 2015, according to Foote, as companies try to scale software programs, databases and infrastructure. "IT has been so focused on producing a solution that works today, they haven't considered scalability," Foote said. "User adoption rates and activity are soaring, which is fueling the demand for architects. In fact,
The Open Group Architecture Framework (TOGAF)
is the highest-paid skill in our quarterly index."
Click here to find architect jobs.
Big Data Experts:
Last year, Foote predicated a big demand for
database developers
,
analysts
and
technical specialists
, but his forecast faltered when the pay for 31 noncertified Big Data skills unexpectedly declined 2.5 percent between August and September. So we asked Foote to explain why he continues to be bullish on Big Data roles. "Companies took a breather from hiring during the fourth quarter because they were unable to make the leap into prescriptive and predictive analytics," he explained. "They needed some time to reflect and regroup." He added: "However, the pay for certified skills, especially
Cloudera
, has held up, which is why I still like Big Data but as a longer-term play." Who stands to benefit in the short-term?
Data scientists
and professionals with top-notch data management and/or analytical skills will likely see their stock value rise in 2015. Foote predicts that the pay for noncertified skills will rebound as companies launch new data initiatives and resume searching for external talent.
Click here to find Big Data jobs.
Cybersecurity Specialists:
If you're a certified
IT forensic investigator
, an
intrusion analyst
or a
certified ethical hacker
, you're in luck. After experiencing a record year for attacks in 2014, companies are taking big steps toward building more secure environments. "2015 will be a good year for cybersecurity pros with niche skills," Foote said. "Companies don't have a handle on their vulnerabilities so they'll be looking for specialized experts to conduct vulnerability and risk assessments."
Click here to find security-related jobs.
Hybrid IT Pros:
CIOs need forward-thinking
business analysts
and
software engineers
, who are well versed in business strategy, user experience and customer intelligence."They don't need coders," Foote said. "CIOs are looking for are software engineers who can think beyond what they're doing today and business analysts who can predict what customers will want next year and the year after that. The demand for outside-the-box thinkers with hybrid skills is not going away."
Click here to find engineering jobs.
Application Developers:
Although 2015 is shaping up to be another good year for
application developers
, the biggest winners will have experience with
Agile
,
JavaFX
and
user interface design
.
Click here to find app-developer jobs.
Losing Ground
These jobs, on the other hand, might face some headwinds over the next year:
SAP Specialists:
Pay for
SAP professionals
has fallen 7 percent over the past three years, based on Foote Partners' survey of 92 certified and noncertified skills. However, there are some exceptions. For instance, the pay for professionals with governance, risk, and compliance (GRC) expertise or knowledge of SAP's retail modules has remained steady or grown. "The pay for professionals with SAP peaked in 2011," Foote said. "Knowing a hot module can bolster your job hunting fortunes and give you an edge in salary negotiations."
Click here to find SAP-related jobs.
Web Developers:
Of course, companies still need website upgrades, reboots and maintenance. But developers are losing ground because the market is flooded with talent. "Employers can hold out for a
Web developer
with industry experience, e-commerce or specialized domain experience," Foote pointed out. "Unfortunately, the current market conditions give employers the upper hand in salary negotiations."
Click here to find Web developer jobs.
Cloud Professionals:
Foote predicted great things for
cloud architects
,
engineers
,
administrators
and
integrators
in 2014, largely because the pay for 27 noncertified cloud skills rose throughout 2013. However, demand leveled off in the spring, and the pay for noncertified skills actually declined 1 percent over the last three to six months. Why? Chalk it up to an improving balance between supply and demand.
Click here to find cloud-related jobs.
Employers no longer need to offer signing or retention bonuses to attract and retain cloud professionals, Foote explained: "It's just part of the evolution… When the skill gaps close in a particular field, employers pay the going market rate, especially for noncertified skills."
Upload Your ResumeEmployers want candidates like you. Upload your resume. Show them you're awesome.
Related Articles
Image: Ajgul/Shutterstock.com