IT
engineers
continue to be in demand, and the proof is in their salaries, according to the 2013–2014
PayScale College Salary report
. Their roles accounted for a sizable chunk of the top 10 salaries across all industries when measured by median pay for graduates with at least 10 years of experience.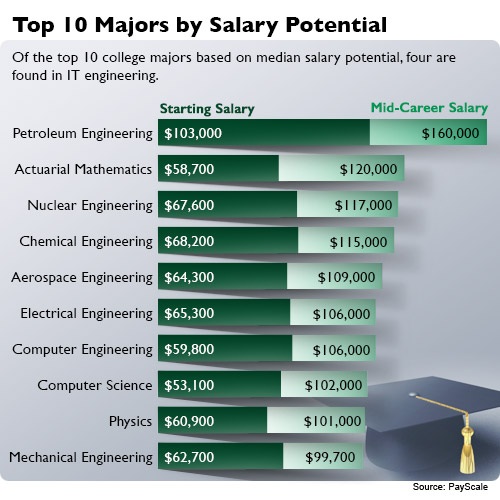 Computer engineering
majors, sharing sixth place with
electrical engineering
majors, had an annual median salary of $106,000 for those at the mid-career level. When starting out – with five years' experience or less– they earned $65,300 a year, compared to the slightly lower $64,300 for electrical engineers. Meanwhile, mid-career computer science graduates also earned six figures. Their median salaries stood at $102,000. Within computer science degrees,
the five top jobs in terms of demand are
software architecture
and
development
,
mobile app development
,
Big Data analytics
,
healthcare IT
and
video game design
. Skills that are particularly in demand include .
NET development
,
Java
,
JavaScript
,
C#
,
C++
,
HTML5
and
ASP.NET
.
Mechanical engineering
majors round out the top 10 list, with mid-career professionals earning a median salary of $99,700. Demand for these jobs should continue strong, as well. According to the American Society of Mechanical Engineers in its
2013 salary report
, "As the world's population increases, so will the demands on the next generation of engineers to provide solutions for global challenges. Mechanical engineers will be at the forefront of solving these problems." Over the past 10 years, there seems to have been a renewal of interest in mechanical engineering degrees, says Tom Perry, ASME's director of engineering education. The number of students seeking bachelor's degrees in the subject or related fields increased by 43 percent -- to 130,000 -- in 2012, he notes. He attributes this interest to the wide range of applications for mechanical engineering, from the long-held traditional use of control systems found in robotics to embedded systems used in sustainable energy smart systems. "It's not just about mechanical engineering anymore," Perry says. "This is not your grandfather's mechanical engineering."