[caption id="attachment_9081" align="aligncenter" width="500"]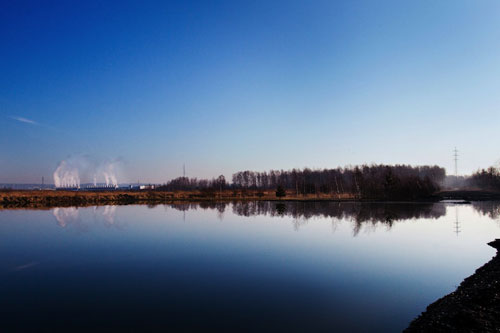 The Belgian facility was the first Google data center to run entirely without refrigeration. Seen here, the canal outside the facility.[/caption] Google will invest an additional 300 million Euro (that's roughly $393 million) in its data center in Belgium, yet another element in the company's expanding European operations. Google made the announcement as Belgian Prime Minister Elio Di Rupo toured the facility, according to
Dutch Website Datanews
and the
Associated Press
. Google made an initial investment of 250 million Euro ($327 million) in the facility in 2010. The additional funding will create 200 extra jobs, according to Datanews—but the real news is the computing power that Google will undoubtedly add to the facility. Located near the towns of St. Ghislain and Mons in Belgium, the facility was the first Google data center to run entirely without refrigeration, relying instead on an
advanced evaporative cooling system
that draws grey water from a nearby industrial canal. At the site, Google uses a large tank filled with fine sand to filter out small particles, leaving the water completely clear (although not suitable for drinking). Google's Hamina, Finland facility uses a similar approach, albeit with seawater. Google has also said that it will try to achieve the same results using collected rainwater at a third, undisclosed facility, which could very well be its third European data center in Dublin, Ireland. Why invest in Belgium? After all, a recent survey of North American datacenter operators by Campos and Digital Realty
indicated that, while 47 percent plan
to expand in Europe, London (39 percent) and Paris (22 percent) came up as the most popular European locations. But Google thinks Belgium is worth the investment. "St. Ghislain has the right combination of energy infrastructure and developable land," the company wrote in a statement. "The local authorities also have a strong vision for how the Internet can bring economic benefits and jobs to the area. The Digital Innovation Valley project has created a cluster of high-tech businesses and put technology at the heart of the education system. As a result, we had a great team of people supporting investment in the area who were very helpful during our site selection process." One might expect that the "Digital Innovation Valley" might be an allusion to California's Silicon Valley. It is, but not in the way you might expect. The Hainaut province that hosts the valley actually ranks below the Belgian average with regard to the concentration of IT companies. The "Digital Innovation Valley" motto was a push to bring IT companies to the region, in conjunction with partners. "From amongst our 5,000 partners in Belgium, only 20% are located in Wallonia. And the deficit is greatest in the Hainaut," Bruno Schröder, Microsoft Belgium's technology director said in 2011,
according to the Belgian consulate
. "We therefore invested in the area, in partnership with the Walloon Region, in order to encourage young entrepreneurs who will create a more concentrated network of potential clients: it is a long-term formative approach."
Image: Google