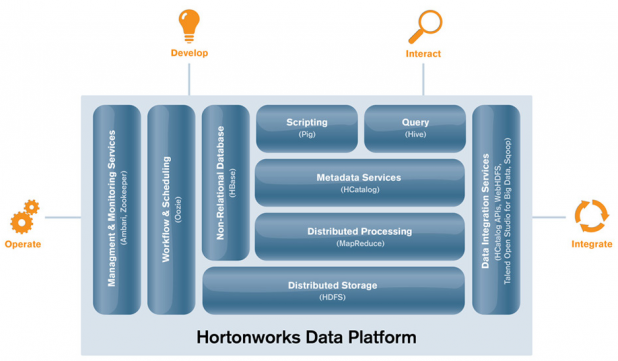 Hortonworks has unveiled Hortonworks Data Platform (HDP) 1.0, an open-source platform built on Apache Hadoop 1.0 that includes data-management, monitoring, metadata and data-integration features. Hadoop, a framework for reliably running applications on large hardware clusters, is prized by companies for its ability to scale from relatively few servers to thousands. Large enterprises (including Facebook and IBM) and small companies have adopted Hadoop as part of their respective data-crunching infrastructures. In turn, that migration has prompted IT vendors large (IBM, Dell) and small (Datameer, Karmasphere) to design tools meant to leverage Hadoop for more efficient data crunching.
Ease of Use
Hortonworks Data Platform offers cluster provisioning and setup, along with management and monitoring services, via
Apache Ambari
, a data-management and administration project for Hadoop clusters. It relies on Apache HCatalog for metadata services and Talend Open Studio for data integration. Hortonworks is emphasizing the platform's supposed ease of use, a likely selling point for enterprises with workers of varying knowledge and skill levels. For example, the platform's provisioning interface surveys nodes in the target cluster and recommends optimal software configurations, with the subsequent ability to start the cluster via a single click. The monitoring interface offers a streamlined ability to see the health of the cluster in depth. The data integration services allow users to connect with data services and build transformation logic via graphical interfaces, sparing them from having to write code. "Hortonworks is delivering on its promise to make Apache Hadoop an enterprise viable data platform," Rob Bearden, CEO of Hortonworks, wrote in a June 12 statement. "Unlike alternative Hadoop offerings, HDP is 100 percent open source with no proprietary code, eliminating vendor lock-in and expensive proprietary add-ons." The platform will be
available for download
starting June 15.
Hadoop's Bright Future
Research firm IDC recently predicted that worldwide revenues from Hadoop and MapReduce, another framework for processing problems across huge datasets, could rise to $812.8 million in 2016, fueled in large part by a flood of data from Web-based applications and social networks. "The rapid adoption of Apache Hadoop has introduced new challenges in having a data platform that is supported with the support and capabilities that IT expects," Mark Smith, CEO and chief research officer of Ventana Research, wrote in a note accompanying the Hortonworks announcement. That could translate into a healthy share of the data-analysis market for companies with the right combination of tools and platforms; but it also means more competition, as more companies pour into the space with their own offerings.
Image: Hortonworks