[caption id="attachment_10257" align="aligncenter" width="618"]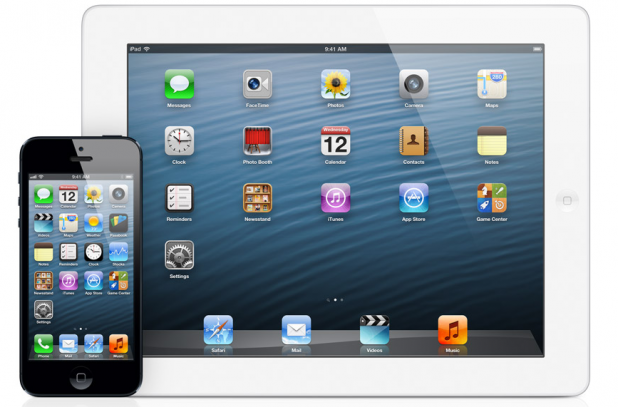 iOS 6: Scheduled for renovation.[/caption] Apple's iOS 7, which is heavily rumored to make its debut at next week's Worldwide Developers Conference (WWDC) in San Francisco, will almost certainly feature a totally redesigned interface. According to recent rumors (including a few key postings on the Apple-centric blog
9 to 5 Mac
), iOS 7 will stand as a shining example of "flat" design, which eliminates "real world" elements such as texture and shading in favor of stripped-down, basic shapes. That means certain iOS environments such as Game Center (with its casino-like green felt) and Newsstand (with its wooden shelving) could soon look completely different. But what about iOS 7's actual features? What could Apple change that would improve the operating system's chances against the increasingly sophisticated Google Android, not to mention the new-and-improved BlackBerry 10 and Windows Phone 8? In the spirit of pure conjecture—always a favorite activity among tech media in the days before an Apple event—here are some ways iOS 7 could represent a significant improvement over iOS 6:
Better Maps:
When Apple released its homegrown Maps app with iOS 6, the backlash was fast and furious. Even the company's most diehard supporters complained about the app's incorrect directions and graphical weirdness. The criticism grew to the point where Apple CEO Tim Cook felt compelled to post an apology to the company's Website, in which he suggested frustrated users could rely on alternate maps apps. Since then, there's been precious little news about Apple's plans to improve Maps, although such tweaks are presumably underway behind the scenes. The upcoming WWDC could prove the perfect opportunity for Apple executives to roll out new Maps features and talk about how they fixed the underlying platform. That might help curb some of the momentum behind Google Maps for iOS, which remains a popular app.
A More Dynamic Lock Screen:
Apple's current lock screen is a paragon of tasteful minimalism: there's the standard-issue "Swipe to Unlock" icon, along with the time and date. The lock screen also features notifications from Twitter and Facebook, along with missed calls. But what if it had the ability to do more? What if you could set the lock screen to display the current weather, or the headlines of your latest emails? A few customizable widgets could go a long way toward boosting user efficiency and happiness, given peoples' habit of glancing at their phone quickly before putting it away again. If those widgets are designed right, they'll be able to convey lots of information without crowding the screen with ugliness.
Make Passbook More of a Force:
In theory, Passbook is a pretty interesting app, allowing users to collect the e-versions of their movie tickets, coupons and boarding passes in one easy-to-access location. In practice, though, Passbook needs more passbook-enabled apps, which means Apple persuading more merchants and companies to climb aboard. If Apple wants to make Passbook a bigger force (which would be in its best interest, considering the inroads its competitors could very quickly make into that territory), it should be moving with all due haste to fill out backend support for the app.
Better Siri:
Something needs to be done about Apple's voice-activated digital assistant. It's no longer considered innovative or novel; in fact, it feels downright antiquated when placed head-to-head with Google's voice search. Apple needs to do something to make Siri exciting again,
aside from displaying sports scores and restaurant reviews
. It needs to help Apple take on Google in one very crucial area:
Beat Google Now:
Google Now has attracted rave reviews in the months since its release. The personal-assistant app (available for Android and iOS) offers quick access to Google's apps (such as Gmail), voice search, and Google Goggles (take a picture with your smartphone's camera, and Google does its best to recognize and display information about the objects in the image). It also displays cards with the local weather, the time needed for the morning commute, and more. Google Now seamlessly leverages the user's data to offer up the right information at exactly the right moment—for example, the time needed to drive back home, or the next meeting on the daily agenda. It's a killer app for Google because it represents the culmination of the search engine giant's work, and it threatens to position Android a big step ahead of anything Apple currently has on the market. Apple needs some sort of response. If it can figure out a way to bring its disparate apps (and Siri) closer together, and leverage all that combined data without setting off user's privacy alarms, it could help the company push back against the buzz that it's losing the innovation wars against other firms. And that, even more than improved apps or "flat" design, could help make iOS 7 a rousing success.
Image: Apple