[caption id="attachment_11212" align="aligncenter" width="580"]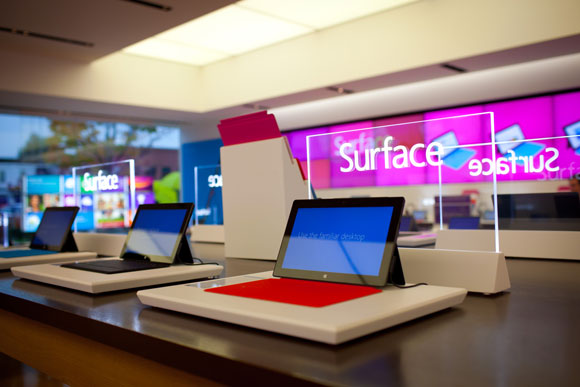 Surface.[/caption] Microsoft CEO Steve Ballmer told employees at an internal company event that Windows hasn't been selling well enough,
according to Neowin
. At the same time, he suggested that sales of Surface, Microsoft's branded tablet running Windows 8, were anemic. "We built a few more [Surface] devices than we could sell," Ballmer told the audience, according to anonymous sources
speaking to The Verge
. He also said that overall sales of Windows devices—including tablets and PCs—weren't up to the company's expectations. As part of its most recent quarterly earnings, Microsoft announced that it would take
a $900 million charge against Surface RT devices
, a move that it referred to as "inventory adjustments." (Surface RT tablets run Windows RT, a version of Windows 8 designed for hardware powered by the ARM architecture, which dominates the mobile-device market.) That multimillion-dollar write-off didn't come as a total surprise, considering how Microsoft had recently announced it would slash Surface RT prices by $150—but it also didn't soothe investors concerned about Microsoft's ability to compete in a mobile-device arena dominated by Google, Apple, and other IT giants. While Microsoft has refused to share many details about Surface's sales performance, research firm IDC suggested earlier this year that the devices had sold just under one million units (a number that includes the Surface Pro, a slightly heavier tablet with an Intel processor that runs "regular" Windows 8). Microsoft spokespeople are refusing to discuss details of the meeting. According to
Neowin
, Microsoft is undaunted by the response to Surface, and apparently has a second generation of devices in the making. That seems like a bold move; but Microsoft might be hoping against hope that, by playing the long game, it can eventually move the needle on adoption in a more positive direction. Certainly its future revenues depend on Windows 8 proving more of a success on the open market.
Image: Microsoft