The Great Recession took a large chunk out of the Big Apple's economy, but now recruiters are starting to breathe easier as the labor market begins to rebound.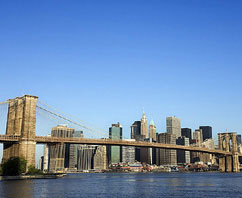 "I would say without question it is much stronger," says
Paul Flaharty
, regional vice president of Greater New York City at
Robert Half Technology
. "Our candidates are getting multiple offers and they are fine offers. They'e not great offers, but they're reasonable offers." Flaharty's consulting divisions are seeing candidates who are evaluating three or four offers at a time. As in other cities, needed skill sets in New York are across the board - from database administrators and analysts, to high-level developers on Microsoft and Java platforms. Network administrators, project managers and business analysts are also in demand. The demand in project managers signals the beginning of project lifecycles that eventually lead to a need for developers and quality assurance testers, as well as other support roles. "That's a good thing because there'll be a need for a steady stream of technologists," Flaharty observes. Flaharty also needs help desk workers. "I got an e-mail from a client who wanted 10 people for a project," he says. "I feel it's an indication of what's to come" Verticals pushing demand include financial services, insurance, real estate, education and health care. Flaharty also sees a consistent level of demand for open source developers, with job orders for experts in LAMP, Linux, Apache, PHP.
Dropping Unemployment
According to
BusinessWeek
, in March New York City's unemployment rate fell to 10 percent from 10.2 percent in February. That's the third consecutive monthly decline. State-wide, the jobless rate fell to 8.6 percent from 8.8 percent in February, the lowest since June and below the U.S. rate of 9.7 percent. New York State gained 9,200 private-sector jobs on a seasonally adjusted basis. Job postings on Dice showed an increased for New York City, with 7,672 jobs listed in March of this year compared to 5,428 in March of 2009.
Wall Street Comes Back
Tim Valdner
, senior technical recruiter at
Analytic Recruiting
, says the market in financial services has come back strong compared to the 2007 levels. "There are across the board positions open mostly in sell side banking, and continued hiring on the buy side. Large financials are starting to refill positions that were cut, and many are hiring new positions, particularly in risk management and compliance." Some hedge funds are hiring, he adds, though they're not growing as dramatically as were before. Financial firms are looking for application developers with a strong knowledge of the capital markets. Bottom line, Valdner believes this upward trend is sustainable: "I don't see it slowing down in the near term."
Tom Roach
, regional managing director for
Technisource
, says he began to see an increase in RFPs at the end of February, mostly for staff augmentation instead of full-time work. A surge of job orders came from clients in financial services sector. "It was almost like a switch had gone off and the numbers almost tripled from what we had," he says. Roach also observes the interview process has shortened. Where last year's was a two-month process, now it's down to a couple of weeks. "People are starting to get more than one offer, and we'are trying to educate the clients that job seekers have multiple interviews going on. That's a good sign." --
Sonia R.Lelii