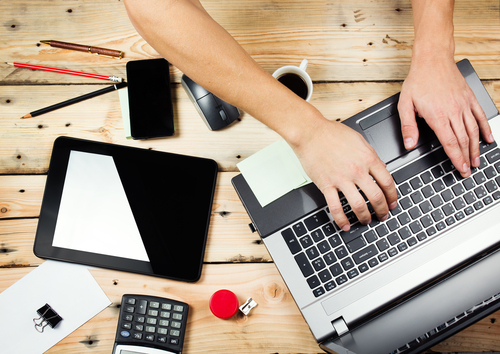 Roughly 34 percent of Americans earn money though freelancing rather than a full-time position, according to new data from the nonprofit Freelancers Union. That's a slight uptick from the 31 percent reported in 2006 by the U.S. General Accountability Office,
suggests The Wall Street Journal
.
Given the trends of the past few years, any sort of increase seems, in retrospect, inevitable: The Great Recession forced many unemployed workers to seek freelance work, while the rise of "sharing economy" firms such as Uber facilitated the ability to pick up piecemeal jobs at a moment's notice.
Click here to find freelance positions.
The rise of freelancing has resulted in a tech-centric economy devoted to streamlining the minutiae of business—take a look at all the apps devoted to quick invoicing, group messaging, or project management. It's also created lots of headaches for contractors and freelancers, especially new ones who haven't had time to learn every rope in the business.
Upload Your ResumeEmployers want candidates like you. Upload your resume. Show them you're awesome.
Many independent IT contractors, for example, don't quite realize how much they need to pay in
E&O insurance
and other types of coverage before a serious problem erupts. Freelancers of all stripes often lack the protections afforded to regular employees by the latter's companies; Uber and Lyft, just to name two prominent "sharing economy" firms,
face controversy
over their insurance policies (or lack thereof) for freelance drivers. While freelancing provides workers with a lot of flexibility, it actually takes quite a bit of work before you can hang out your shingle. Make sure your protections are in place, and your productivity apps downloaded, before taking the plunge.
Related Articles
Image: Kostenko Maxim/Shutterstock.com