[caption id="attachment_4628" align="aligncenter" width="500"]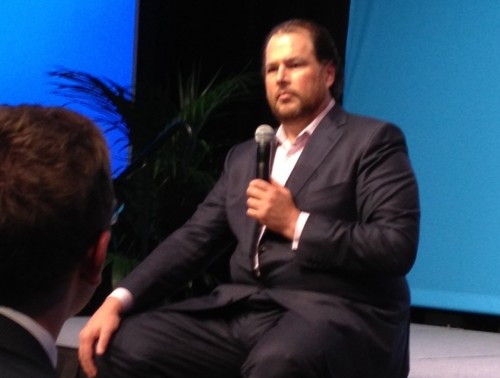 Salesforce CEO Marc Benioff looks a bit nonplussed as he takes an analyst's question.[/caption] SAN FRANCISCO—Salesforce CEO Marc Benioff sat down with media and analysts following his Dreamforce keynote to talk about his company's move toward deeper social-networking integration, its growth in the long term, and new platforms such as the Salesforce Touch app. But some of his comments earning the most attention were about another company altogether: Facebook. Benioff is unapologetic about his love for the social network, which he regularly touts in speeches as one of the more revolutionary developments of the past few years. During the Q&A he took that infatuation one step further, calling Facebook "the most popular application on the planet" and suggesting that its model will eventually end up adopted by, well, pretty much everyone in the tech world. "I think all software is going to look like Facebook," he said. "Everyone is going to have to rewrite to have a feed-based platform." If people can collaborate on tagging a photo, he added, they could easily do the same with a product or business problem. Salesforce's software, of course, integrates many of the social-networking tropes that Facebook and Twitter helped establish, including profiles and real-time collaboration. Nor has the recent, much-publicized plunge in Facebook's stock price shaken Benioff's faith in the company. "I wouldn't judge a company based on its IPO," he said. "I think Facebook is an incredible company and what they're done in eight years is exceptional." That being said, he felt that Facebook should have gone public years ago, and chosen the NYSE over NASDAQ as an exchange. Even as Benioff touted his Facebook love, however, Salesforce is veering away from the Facebook model in one key way: whereas Facebook CEO Mark Zuckerberg felt his company
focused too much on HTML5
for its mobile apps, choosing to focus instead on native-app development,
Salesforce is embracing HTML5
for its Salesforce Touch app, which delivers Salesforce data such as Chatter feeds and contacts to a variety of mobile devices. "All companies will need to move to this dynamic HTML5 capability," Benioff told the room. Earlier that day, during his keynote at the Moscone Center, Benioff pushed his usual vision of the cloud and social-centric software as the best combination for driving business success. "It's the fastest growing segment of our industry," he announced to the crowd. "Nothing touches social in our industry." In addition to Salesforce Touch, Salesforce is using the conference to push new initiatives such as its Marketing Cloud, which allows companies to manage their presence across social channels; Work.com, a cloud-based performance-management platform for Human Resources divisions; Chatter Communities for Partners, which lets companies create multiple private communities; and Data.com Social Key, which combines social data such as Tweets with "traditional" business information such as phone numbers.