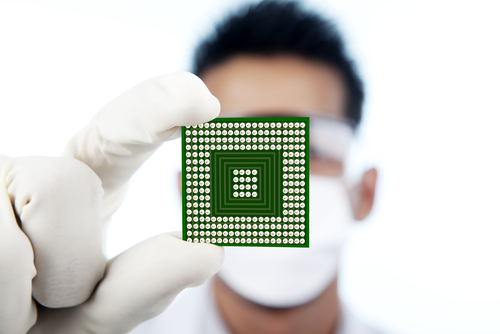 Will Samsung enter the data-center market with a low-power ARM chip designed for microservers? The Korean-language
Seoul Economic Daily
is reporting that Samsung has slated an ARM-powered chip for shipment sometime in 2014, according to a report from
EE Times
. EE Times previously reported that Samsung and Huawei had jointly hired employees to develop an ARM CPU in Silicon Valley. Samsung representatives could not be reached for comment late Monday. Although x86 chips manufactured by AMD and Intel have traditionally dominated the server market, a small portion of the market is exploring CPUs designed by ARM. The X86 chip is seen as the engine of mainstream volume computing—but for those companies where performance is less of a priority, the low-power ARM architecture has evolved as a low-power alternative. Companies can either place more ARM CPUs in a rack, or else simply design a server that uses a fraction of the power of its competitors. The low-power microserver should be more appropriate for so-called scale-out systems, where the nodes are clustered together and connected by high-speed interconnect technologies. Today, those microservers are dominated by X86: Dell sells the PowerEdge C5220, which uses either an Intel Xeon, Pentium or Core i3 chip, while HP's MicroServer line uses the older AMD Turion. The HP ProLiant SL335s G7, which uses the Opteron 4100 chip, is more geared for data centers. In June, Intel announced the Centerton chip, a version of the Atom that's been optimized for the server architecture. Enterprise features include a 64-bit architecture, virtualization support in hardware, ECC memory support, dual-core design, and a power consumption of 6 watts (versus the 120 watts or more Intel's Xeon chips normally draw). Historically, the ARM chip has served as the underlying architecture of the smartphone. But companies including AMCC, Calxeda, Marvell Technologies and Nvidia have all begun adapting the ARM core to the server. AMCC, for example, is scheduled to unveil its X-Gene 64-bit CPU and SOC at the Hot Chips technical symposium later this month. And Boston Dynamics recently began shipping its own ARM-based server. For Samsung, ARM would offer an opportunity to pair an ARM core with its own memory resources in a low-cost bundle.
A Significant Market
How much of the market will be served by microservers?
About 15 percent by 2015
, according to Glenn Keels, director of HP's Hyperscale Marketing for Industry Standard Servers, which launched its Gemini or "Project Moonshot" line of servers in June. Those servers will be based on the Centerton chip, but a version will also use the ARM architecture, HP announced at the time. AMD is expected to eventually offer a competing solution for the microserver market, despite a licensing agreement with ARM never materializing. In March, AMD bought SeaMicro, which had previously focused on developing microservers based upon the Intel Xeon and Atom architecture (the latter serving as Intel's own entry into the low-power market). Analysts, however, are worried that AMD won't be able to scale its Opteron architecture under 30 watts, a requirement for competing with ARM chips and the Centerton.
Image: Realinemedia/Shutterstock.com