Fortune magazine - complete with a big, yellow smiley face on its cover - has released its annual list of the best 100 companies to work for, and several tech firms are on it. In fact, SAS, a privately owned software developer with about 5,500 workers, ranked No. 1.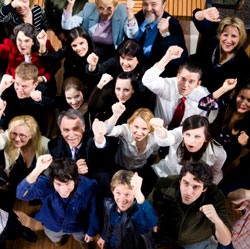 What kinds of perks and benefits do companies offer that makes them so great to work for?
On the list for the last 13 years, SAS boasts a "laundry list of benefits," from high quality child care at $410 a month, substantial health care coverage, unlimited sick days, a medical center, a free 66,000-square-foot fitness center and natatorium, a lending library and a summer camp for kids.
Google ranks No. 4. Although the search engine giant recently pulled back on some of its perks, last year it increased its 401(k) matching and added a stock-option exchange program to help employees with underwater options. Also, engineers still get to devote 20 percent of their time to pet projects.
Storage company NetApp came in at No. 7 as it has added an employee stock-option exchange and updates to incentive compensation. When the company reduced its workforce by 5 percent, severance packages were generous.
Wireless pioneer Qualcomm, ranked No. 9, tries to provide an environment where "good people can do their best work." It helps that Qualcomm offers stock options on hire, baseball games, surfing lessons, kayaking tours, white-water rafting, bonfires, bowling and volunteering opportunities.
Other high-tech companies that made the list include Cisco (16), which has become one of the nation's largest providers of on-site childcare, and Microsoft (51) where software developers' average salary is $106,000.
-- Sonia Lelii