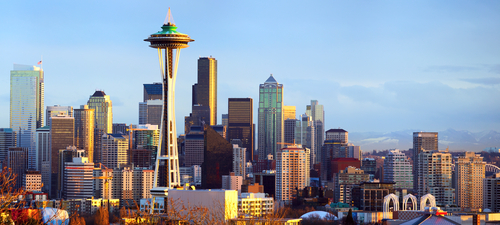 What's New This Quarter
Should
Microsoft
leave Seattle and head for Silicon Valley? That was the provocative question raised by Peter Cohan in a February
Forbes
column. His theory: Microsoft can no longer innovate, and its best hope is to immerse itself in the feverish environment of the Valley. "The lack of competing opportunity for Microsoft's talent spurs complacency by employees and management," he wrote. Of course, Seattleites immediately fired back. "In my opinion, being outside the echo chamber of San Francisco is a benefit to companies seeking to appeal to a broad audience. I'd venture to say that Microsoft would accrue far more resentment and lost talent by moving out of Seattle than any benefit they'd gain," responded online marketer Moz co-founder Rand Fiskin.
Click here to find a tech job in Seattle.
Another tidbit: the Seattle Seahawks have been a better investment for Microsoft co-founder Paul Allen than the company itself since he bought the team back in 1997. Over that time span, the Seahawks' value has increased six-fold, while Microsoft stock has merely doubled. Still, Allen has made more than $20 billion from Microsoft since he reduced his share from 28 percent to 2 percent, according to Bloomberg. Meanwhile Seattle's other big player,
Amazon
, has exercised its right to buy yet more land in downtown Seattle for future development. The company paid $52.2 million for the block between Bell and Blanchard Streets and Seventh and Eighth Avenues, just north of where it's building a 3.3-million-square-foot campus. Ultimately, Amazon plans to build three 38-story buildings as well as some smaller facilities.
Skills in Demand
"
Windows 7 deployment technicians
,
systems administrators
,
.NET developers
and
project managers
are in demand," says Sam Shields, Seattle branch manager for recruiting firm
Robert Half Technology
. "We've also seen an uptick in open source development roles (think
LAMP stack
) and
storage
/
virtualization
roles." Shields also suggests keeping an eye on
healthcare IT
. "Healthcare is growing, especially with EMR/EHR implementations being built." In a survey by RHT, 58 percent of the area's technology executives said that
network administration
is among the skill sets in greatest demand within their departments. Windows administration and
database management
followed. Local recruiters say they're seeing continued high demand for
software developers
(
Java
or
.NET
),
front-end Web developers
(
JavaScript
),
user interface developers
, and
software development engineers in test (SDETs)
.
Desktop support
staff is also a perennial need.
Salary Trends
According to the
2014-2013 Dice Salary Survey
, the average salary for a Seattle-based IT professional is about flat from last year at $95,048. That's still 8.2 percent above the national average tech salary of $87,811. Robert Half Technology says that 15 percent of Seattle-area technology executives expect to expand their IT teams during this year's first half, compared to 9 percent in the previous quarter. In addition, 74 percent plan to fill open IT roles during the period.
Leading Industries
Telecom
Aerospace
E-commerce
Software Development
Healthcare
Local Employment and Research Resources
Related Stories
Image: dibrova/Shutterstock.com