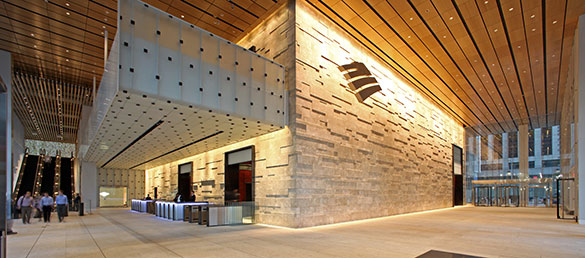 Bank of America's
Global Technology and Operations group is comprised of some 110,000 employees and contractors, a significant chunk of a company whose total headcount is 233,000. "If you carved out this division from Bank of America, it would be one of the largest technology organizations in the world," says Whitney Westbrook, senior vice president and the group's campus talent manager
.
Across 34 countries, Global Technology and Operations provides the platforms and services for BofA's consumer banking, wealth management, commercial banking, treasury services, sales and trading, and investment banking businesses, as well as risk management, finance and other critical support functions. The company hires a wide variety of technology professionals including
application
and
system architects
,
application developers
,
network
and
system engineers
, and
operations specialists
to support the company globally. Candidates should have experience and demonstrated competency in common programming languages like
Python
,
Java
, and
C++
,
database technologies
,
network design
and
architecture
, PC hardware and
desktop support
, as well as common communications tools and services.
Click here to find a tech job in the financial services industry.
How to Navigate a Job Posting
BofA's job listings are pretty straightforward. "Both our content and job descriptions use common industry terminology and provide a clear definition of jobs and list all required and desired technical and leadership skills," Westbrook says. Also, the company uses social media channels to find tech candidates, including
Facebook
and Twitter.
The Hiring Process
The interview process varies depending on the type of job and level of responsibility involved. As a general rule, some type of formal screening takes place via telephone, standardized assessment tools or in-person screening. Panels—including hiring managers, senior leaders, peers and business partners—meet with potential candidates and conduct interviews.
Upload Your ResumeEmployers want candidates like you. Upload your resume. Show them you're awesome.
What Makes a Good Fit?
According to Westbrook, Bank of America is on the lookout for "team-oriented technologists and innovative thinkers with a commercial mindset." Its focus is on building key capabilities, like e-commerce, cybersecurity, digital business, data and analytics, and software architecture and design. In addition, she notes, strong financial acumen and the ability to manage risk are necessary traits in the heavily regulated financial services environment. To stand out in an interview, candidates need to highlight how they've tackled difficult challenges and driven results.
See more Landing@ stories here.
Advice for Seasoned Professionals
Bank of America expects IT candidates to have strong analytical skills and demonstrated technical capability in their selected field. Innovative and end-to-end systems thinking are also critical skills. "In terms of personal characteristics, individuals who are team-oriented, flexible, adaptable, show strong initiative and have strong communication and relationship building skills are a good fit," says Westbrook. "Individuals who are intellectually curious and have a passion for continued learning and development do very well at Bank of America."
Advice for New Graduates
Before applying, research the company to understand the culture, business priorities and opportunities, says Westbrook. Also, look for ways to network with current BofA employees. Try to take advantage of the company's internship programs, which are a major source of full-time hires. Bank of America offers
internship opportunities
for computer science graduates around the globe. "We often refer to our internships as a 10-week interview for students who are exploring full-time career options after completing an undergraduate, master's or post-graduate degree in computer science," Westbrook says.
Related Articles
Image: Bank of America